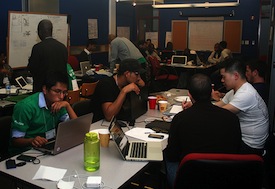 News broke today that four of Chicago's technology leaders — including J.B. Pritzker — are launching a Chicago technology center for startups.
While more than 100 people have been involved by giving advice on the project, Built in Chicago founder Matt Moog, Troy Henikoff of Excelerate Labs, and Kevin Willer of the Chicagoland Entrepreneurial Center are said to be leading the efforts.
"It wasn't always easy for people new to the community to figure out where to go for capital, to hire people, and to get the general benefits that will from from a close-knit community," explains Moog.
According to Moog the project will not be a traditional incubator. Instead of trading free rent for equity in the company, the new space would operate as a nonprofit. Startups would be charged a fee per desk or small suite. This move makes it much more of a coworking location than an investment opportunity.
The privately-funded center will be around 50,000 square feet and, of course, will be located near public transportation.
This story is still developing; please check back for updates.
[Via: Chicago Tribune, Image credit: Hugh Mason]