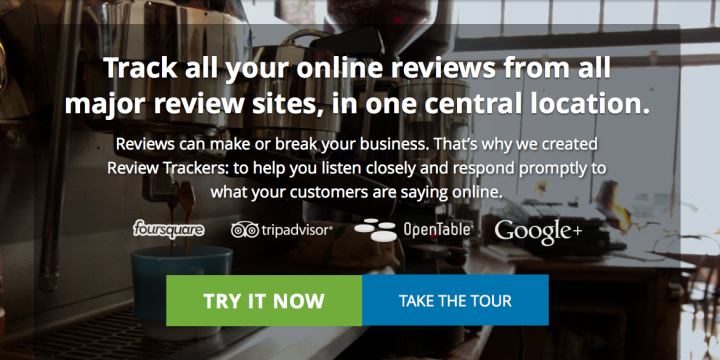 By now, you know how important it is to monitor social media for your business.  You're likely using tools to help you manage it, like Hootsuite or TweetDeck.  (And if you're not, you really should.)  But, what about review sites?  With so many gaining in popularity, how do you monitor Yelp, OpenTable, TripAdvisor, Urbanspoon, Caring.com, Google + Local/Google Maps, and many more?  Chicago startup Review Trackers can help you, and they just closed a $2 million investment round to make their service even better.
The round was led by Milwaukee's CSA Partners with top investors including American Family Ventures, Jeff Rusinow and SymphonyAlpha Ventures.   According to the startup's founder, Chris Campbell, this investment round will drive continued growth and dedication to its customers.
A mistake that business owners often make is not monitoring what's being said about them online, especially when technology makes it almost easy to do.  Review Trackers looks at 45 different review sites for you, even alerting you when a new review is posted about your business.
The company shared that Harvard University research shows a 1-star rating difference on a review site may result in 5-9% revenue gained or lost.  That can amount to between $50-90K for a mid-sized restaurant, or the difference between being profitable or not.
Review Trackers' investor Jeff Rusinow commented, "Review Trackers is paramount for those business, helping them quickly and comprehensively identify trends, strengths and opportunities for improvements."
Whether you're a small business or an enterprise with multiple locations, Review Trackers offers a software platform to help you manage customer reviews, even track, generate and analyze them across all major review sites.
"A negative online review is equivalent to someone standing outside your business holding a sign telling people to not go in," said Campbell, who founded the company in January 2013.  "Review Trackers is to online reviews what Hootsuite is to social media.  We're committed to making it simple for businesses to efficiently manage and monetize customer feedback."
Plans for their software start at just $29 per month for one location.  You can find more information about the company's product by clicking here.