The startup hiring forecast is looking rosy. According to a recent survey, nearly 83 percent of all startup companies plan to hire in the next year. Considering the 8.2 percent unemployment figures and the lean June jobs report, more job seekers than ever will consider making the switch from an established company to the startup environment.

Just as important as it is for job seekers to find a great position, it's doubly important for startups to hire the right employees. For startup companies to survive and thrive, they need good employees bringing innovative ideas. Online video hiring solutions are helping these startups find the talented employees they need.
Here are some ways startups can use video interviewing to find superstar candidates:
Creative Solution to a Common Problem
At most startups, innovation is a prized commodity. After all, if startup entrepreneurs were interested in the way things have always been done they would be working for an established company. Instead startup companies look for creative solutions to common problems, for new ways to innovate and new ideas to bring to the table.
These are the same traits startups look for in ideal employees. Using video interviewing shows candidates right from the hiring process that the company is willing to embrace new ways of thinking. Branding your company as creative and tech savvy will in turn attract potential hires with these same values.
Move Faster
Life at the average startup moves quickly and so should hiring. After all, the talent your company misses out on will be helping your competitor's bottom line. Video interviews can shorten the traditional hiring process by allowing startups to bridge the gap between resume and final interview. For instance, a one-way video interview allows employers to pose written questions that candidates then answer on video. These video answers can then be viewed at any time. A survey from the Aberdeen Group discovered employers can perform 10 video screens in the time it would normally take to perform one phone screen. With the ability to evaluate and weed out candidates faster, hiring decisions can also be made with more speed. This means startup companies won't lose out on the talented candidates they need.
See Personality Earlier
Hiring is essential in a startup because you are building the company culture and workplace environment. Not only will you be working long hours with the candidates who become employees, but these people will also be setting a standard for your company. Video interviewing allows startup companies to assess personality earlier in the hiring process. This helps startups focus only on the best fitting candidates who will help develop the culture you want.
Startup companies looking to develop great company culture, nurture innovative ideas, and do it all before the competition, need to focus on the hiring process. Video interviewing can help startups find great employees who will fit into the company faster and easier than ever before.
About the Author: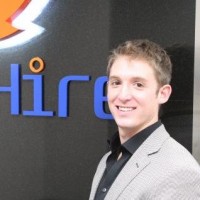 Josh Tolan is the CEO of Spark Hire , a video powered hiring network that connects job seekers and employers through video resumes and online interviews. Connect with him and Spark Hire on Facebook and Twitter