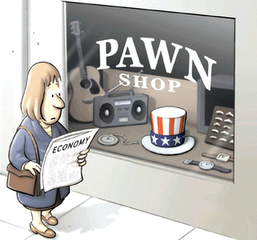 Written by Kevin Leland, Co-founder of Pawngo
Here at Lightbankwe're enamored with any business that uses technology to completely upend some old school industry. We did it with freight — Echo Logistics; we did it with printing — InnerWorkings; and we did it with boring coupons — Groupon. When we came across a company called Internet Pawn, which aimed to bring the ancient pawn industry online, we got excited.
Some of us here — including myself – were skeptical about associating ourselves with an industry that, in our eyes, had a questionable reputation. The more we looked at it, the more we saw an opportunity to change this popular misconception and bring the pawn shop mainstream. After all, what's wrong with temporarily trading stuff you own in exchange for some quick cash? It is really the ugly storefronts spotting blighted urban areas and a few less than flattering depictions in pop culture that really give pawning a bad name. Despite these stereotypes, pawning has been and remains a great business because it provides a service for people who truly can't get it anywhere else — a short-term loan without credit. And the more we studied it, the more we learned how much pawning has changed from Main Street to Wall Street: pawning is now a $20 billion industry with three publicly traded companies.
Making Pawngo a success, however, would require a sea change in perceptions. As the Lightbank Founder-in-Residence with a background in marketing, I was excited to be tasked with the challenge. I dove head first into Internet Pawn's business and came out with the following recommendations on how to make an old business new again.
1. Be proud of who you are
At Internet Pawn, things weren't moving as fast and smoothly as they had hoped.  About a year into the business, they decided to do some market research. Anyone who has done market research knows that it can be both a savior or death knell, and unfortunately for Internet Pawn, their research verged on the latter. One of the big insights that came of the research was that people had a very negative perception of pawning- surprise! Internet Pawn used this research to justify a completely new site, Boomerang Lending, that refrained from mentioning the word "pawn." Boomerang targeted a more upscale audience and offered "quick and secure collateral loans." While it may have seemed like a sound marketing strategy, it fell short on several fronts.
First off, the entire notion of a collateralized loan was confusing.  People may not have known exactly how a pawn shop works, but they knew what a pawn shop did and an online pawn shop was pretty self-explanatory. Collateralized loans were a whole different beast and their tagline, "loan yourself money," just added to the confusion.
Second, it presented a whole new level of complexity for targeting and positioning. Internet Pawn could easily target people searching for pawn shops: since the site was optimized to the word "pawn," clicks were relatively inexpensive. Because any search term with the word "loan" in it was far more pricey, clicks on Boomerang cost three times as much. To make the long story short, Boomerang Lending was basically a dud, and Internet Pawn attracted more business at a much lower cost. On the second time around with Pawngo, we decided to embrace our pawn shop heritage.   That's right, we're a pawn shop and we're proud of it!
2. Look your best
The Internet Pawn "look and feel" wasn't terrible, but it didn't do much to change people's perceptions of pawning. It had stock photography and a big fat direct response application on the right-hand side, which wasn't so welcoming. Internet Pawn was basically showing a bunch of fake photos of itself and then trying to sleep with the customer on the first date. Not a good strategy in any circumstance.
Despite some of the pitfalls from Internet Pawn's earlier research, we decided to make another go at it. We conducted both in-depth interviews and surveys of Internet Pawn's current customers. We wanted to know everything we possibly could about them: age, gender, education, income, current sources of cash, favorite Jonas Brother; EVERYTHING. After a little bit of data mining, we found that Internet Pawn's customers tended to be females that were well-educated and well-heeled — not your typical pawn shop customer! It made sense: one of Internet Pawn's key value props was that you could pawn your stuff from your house without venturing out into a seedy neighborhood.  With this information in tow, we teamed up with a top branding and UX/UI firm, akta, and set out to create a brand and user experience that would totally blow away this target audience.
First, we started with a complete branding overhaul, changing the name to Pawngo, and making the overall "look and feel" much warmer, friendlier and simpler. Second, we rethought the entire work flow and application process. For example, rather than asking for all the personal information upfront, we opted for a more lazy registration process. Pawngo only requests small pieces of information from our customers and clearly explains why we need that information. We want to get to know our customers and build a relationship with them. In the end, Pawngo looked pretty damn hot, and shortly after launch, it became clear that a lot more people wanted to date us.
3. Spread the word
Now that we had a kick-ass site that challenged people's stereotypes of pawning, our next step was to come up with the perfect marketing mix. In choosing where to market ourselves, we thought of what a stereotypical pawn shop would do and did the complete opposite. That meant no direct response TV commercials at 3am or obnoxious radio spots. We turned to the most credible channel of all, public relations, and teamed up with Groupon's PR firm, SSPR.  Our key message was that we were reinventing and re-imagining the traditional pawn shop. That message resonated. We were featured in Slate, Fast Company, AllThingsD, and others with headlines like "Groupon founders reinvent the pawn shop" and "Next Big Thing in E-Commerce?" Not bad! While PR is a fantastic awareness tool, it's not the best at directly converting customers. In the past, Internet Pawn had focused almost entirely on paid search for conversions. While paid search would remain an important driver for us, we spread our marketing wealth across various channels, including SEO, affiliate and other experimental tactics that are so cool we'd have to kill you if we told you about them.
We're not sure how successful we'll be at reinventing an old business again, but three weeks into our launch, early indications are that we're making some serious headway. By showing pride in our roots, making ourselves look attractive to our target audience, and broadcasting our greatness to the masses, we've reimagined the pawn shop and took the first steps in creating the next big thing in e-commerce.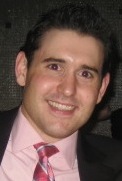 Kevin is the Co-founder and Vice President of Marketing for Pawngo, the first full-service online pawn shop. Previously, Kevin served as Marketing and Business Development Manager at The Wall Street Journal where he launched a new mid-tier sales division. Prior to The Journal, Kevin worked at the Chicago Tribune Media Group as a Brand Marketing Specialist, where he managed branding initiatives for RedEye, the daily commuter paper, and Tribune digital properties. Kevin is a former White House Intern and Fellow with the International Radio and Television Society. He holds an MBA from the Kellogg School of Management, an MS in Journalism from Northwestern University, and a BA in Psychology, magna cum laude, from the University of Pennsylvania.