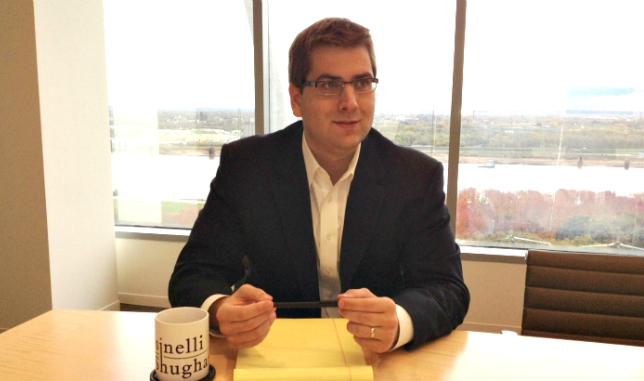 Meet Brian Salmo, an attorney specializing in business at Polsinelli Shughart in St. Louis.
Brian Salmo thinks of himself as "a business person that solves legal problems", and it shows. Salmo is an attorney that many St. Louis entrepreneurs may recognize thanks to his dedication to serving the local startup scene. His passion for helping early stage companies doesn't just take place inside his office walls. He is also active out in the community. Salmo provides legal services for companies coming out of the Arch Grants program, and he was a judge for the inaugural St. Louis Startup Weekend. He can also be found teaching entrepreneurs about business law on panels like "Understanding the Current Fundraising Climate" at T-REx. 
Salmo's work at the intersection of the law and business is a valuable asset to the growth and development of the St. Louis startup ecosystem.  Here's how Brian Salmo got his start in business law, and why he loves the city of St. Louis:
On His Early Career
I grew up with an intuitive feeling that I wanted to be an attorney all throughout grade school. For a while, I veered off that course, and in college I became interested in learning about business.  I read a lot of business profiles, including profiles on companies. In college, I got a finance degree (B.S./B.A., Finance, cum laude, University of Missouri-St. Louis, 2006) and I was obsessed with the business world. After I graduated college, I went through a reawakening. I went to law school (J.D., cum laude, Southern Illinois University, 2009, Dean's List) and I became a business attorney to understand the architecture of business. I enjoyed law school, and I always had an eye for working with entrepreneurs more than mega companies. My internship was at Polsinelli Shughart, and I started working for them right out of school.
During my second month on the job, I worked on a deal with Andrew Hoyne. He is well known for his work in the life science and biotech industries. We had a financing that was closing. I worked with him hand in hand and it was exciting. Working with startups, you get to do so much and it has real meaning for them. The work is gratifying because you are really helping these individuals move their products forward. I found that I could make a significant impact on people's lives at an early age.
Polsinelli Shughart has entrepreneurial roots. The firm was founded in the 1970's, and grew to over 600 attorneys, much of which is organic growth. Since it is a first generation law firm, there were no legacy clients. We go out in the community to attract new clients.
On Working With Entrepreneurs
Entrepreneurs are smart people, but the legal issues aren't clear to them when they are starting a business. There is a huge need for a guy who is willing to get immersed in the community. Early on, I liked the access that I had to a lot of different people in the business world at a young age. I think of myself as a business person that solves legal problems.
The startup community is small and being an attorney, it is always competitive. I am present at a lot of events, and I host events. These are soft ways to be in front of entrepreneurs rather than a formal relationship. I am always wearing an entrepreneur's hat, so I see being an attorney as an opportunity to have autonomy, to build my brand, but get a paycheck too. By event participation and influencing the firm's sponsorships, I have a consistent drumbeat in the space.
As a business attorney, I help companies get formed, help them with financing, and provide day to day outside counsel.
Some startups incorporate with forms that they can buy online. There is nothing wrong with the forms, but it's like buying a suit off the rack – you are going to need alterations. If you set up the company this way and you have four owners for example, the founders have to ask themselves: is everyone incentivized to move it forward? Do we need stock options, and have we looked into confidentiality agreements so that the company owns the IP? When you work with an attorney, you are paying for the counseling from people that have seen companies succeed and fail.
Advice To Attorneys Who Want To Get Involved With Startups
There is a very open and collaborative environment in St. Louis. You can get a meeting with anyone that you want. At the InvestMidwest event, one investor said to me that he was blown away that when he was talking to people in St. Louis about the startup scene, they were encouraging instead of competitive with each other. It's collaborative here. A rising tide lifts all ships. My advice is: be open to everyone. Don't judge a book by it's cover.
I would tell people who want to get involved in business law to read your local business publication. Know the players, know the companies, and know who is doing what. You are aways going to bump into somebody from the startup scene in the bar, so you should know what they do.
I suggest reading a lot online about how deals work and the legal issues affecting entrepreneurs. You have to have a well-rounded specialist. You have to be conversant in a lot of different areas. Go to events and get to know the players.
I read blogs like Feld Thoughts (by Brad Feld) and the Wall Street Journal technology section. To keep up with what is going on in your local startup scenes, your local business publications are a must-read.
On The Current St. Louis Startup Scene
Now there is good early stage money available, and there are good companies for money to be put into. There is not good opportunity for local Series A funding, but two years ago we would have loved to have that problem. It's a maturing market. The awareness of the general public and media attention is growing. Capital Innovators, T-REx, and the Arch Grants weren't here just two years ago.
One of the opportunities I see for investment is in business solutions. Overall, the social media stuff doesn't resonate with some investors here. The technology scene can do a better job of conveying that they are business solutions. For example, marketing startups as "practical business solutions" can unlock the investment by helping reluctant investors understand the value. This kind of business is not going to flame out. No one is beating that drum of "business solutions", but they should be. We have a lot of companies that are helping businesses find value.
My Wish For The St. Louis Startup Scene In Five Years
In five years, I hope that there are good local funding sources, including angel, seed, Series A, and Series B here. I want people to realize that St. Louis is a great place to start a company and build a company. I want companies to keep teams in St. Louis, because it is low cost and centrally located. In five years, St. Louis will be a great place to get clients and get funding. That's the ambition and we are on our way. The startup community was fragmented two years ago. Today we are on track to grow.