In these still unsteady economic times, everyone is trying to save a buck. And for those of us who have not jumped on the extreme couponing bandwagon quite yet, there is a place you can boast about that Banana Republic sweater you found on clearance for $10. Meet BragTaggs.
Founder Christopher Sell had the idea for BragTaggs watching his mother, sister and girlfriend tell others where they had purchased their wares and what percentage off they paid for the item. The site offers a place for members to do the same: brag about how much money they spent and receive gift cards to a retailer of their choice if their post is the most popular of the week.
Members post on a simple form stating what the item is, where they purchased it, the original price and the actual price paid. For the mathematically disinclined (raises hand), BragTaggs does the rest, calculating what percentage the member saved. Other members can follow you, like on Twitter, and 'like' your deal, like on Facebook.
"A lot of people post deals on their social media sites, but it gets lost in the shuffle," said Sell. "Also its not in a standardized format."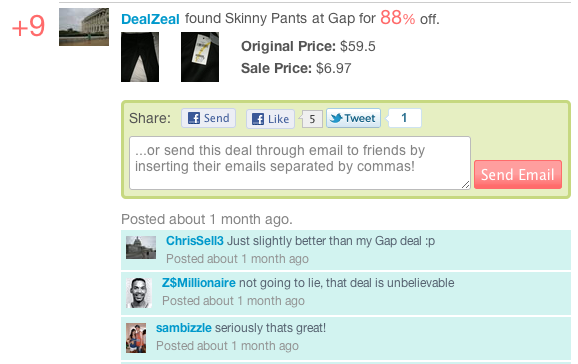 If your posted deal receives the most 'likes', you can choose a $20 gift certificate from any retailer of your choice. In the future, Sell hopes to build relationships with retailers for gift card provisions but currently is purchasing them specifically for members with money won from a Northwestern entrepreneurial contest.
Launched with about 40 friends in private beta, BragTaggs went to public beta a few weeks ago and now has over 50 users, said Sell.
The site has some unique features that will allow retailers to see what sales and deals are trending, which will hopefully lead to the most adamant posters being rewarded directly from the retailers themselves. Trophies are awarded to members who post several deals from one retailer, along with other badges like Cheerleader, Trendsetter and Fort Knox.
"On the site, we have a bunch of people who hold pride at certain stores, and to get inventory out on the sales racks, we could allow retailers to have backend access to advertise to those users," said Sell. "Retailers could have analysis on who posts the most and who gets the most 'likes' or has a trophy on profile. Retailers would be able to see those people and send a message through the site, send them a VIP or emails for upcoming sales and possibly gift cards to move inventory.
Short term for now is continued user development and integrating BragTaggs with deals users purchase from the multiple daily deal sites such as Living Social and GroupOn.