As the fight against censorship continues this week many are taking a stand against the Stop Online Piracy Act by establishing web movements in hopes of creating awareness about the bill. The SOPA is a dangerous bill that will drastically alter the Internet; impacting jobs, entrepreneurship, and growth.

Hunter Walk and Gregor Hochmuth launched BlackoutSOPA.org late last night in a personal effort to help create awareness about the bill. BlackoutSOPA is a simple, yet effective tool designed to alter your Twitter profile picture to let your followers know that you are taking a stand against SOPA. The site offers three different photo choices, but the most option replaces the bottom portion of your current Twitter profile picture with the words 'STOP SOPA.'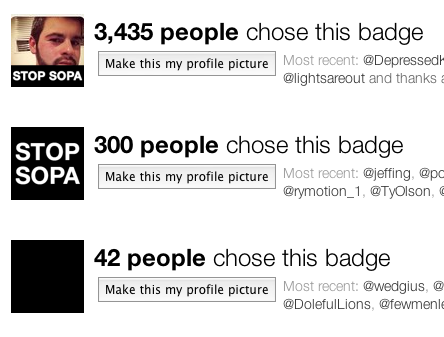 "Of course like everyone I was outraged to see support building for SOPA/PIPA, but figured there would be public outcry once they understood how flawed these bills were. But this weekend when I read that news networks tied to the companies supporting SOPA were barely covering the debate, I got scared. So Gregor & I figured 'well if they're going to try and blackout coverage, we're going to BlackoutSOPA.' And we threw together the site. Changing your Twitter avatar is just a small statement but it keeps the issue top of mind and in view of millions of people" explained Walk.
BlackoutSOPA also gives users the option to download a copy of the photo so they can easily spread it across other social networks. Please take the time to contact your local representative and tell them to vote no on SOPA.