Mobile marketing has been widely adopted by major retailers like Target and Bed Bath & Beyond with enthusiasm. Last week, Target announced a major national rollout with the Shopkick platform. Now, a mobile marketing company wants to bring the same innovative practices used by major corporations to businesses on Main Street.
BizHappy is a mobile marketing platform that wants to make it easy and economical for small business owners to reach their customers on the go. The app is available on both iOS and Android devices. Launched in January 2012 in Southern Florida, the app allows businesses to stay connected to their customers by publishing their information in the BizHappy app.
Businesses can easily enter their location, business hours, specials, and holiday information for customers to access from their mobile devices. BizHappy also offers a BizBlast service that allows businesses to send timely information and special deals directly to customers' devices with unlimited push notifications.
The app is perfect for small business owners who want to have a social media presence, but who don't have the time to do it themselves or the resources to hire someone to do it for them. Business owners can simply publish updates to their social networks from within the BizHappy dashboard.
Founder Vincent Baratta was in the medical supply business by trade last year when two seemingly unrelated experiences gave him the idea for BizHappy. First, he wanted to build an app for his medical supply company. After researching the cost and time investment, Baratta realized that it would cost $20,000 to $50,000 and take months.
A few weeks later, he dropped by his favorite dry cleaners to pick up his pants, only to realize that the shop had closed early. He wondered how much easier his errand would have been if they could alert him via his mobile phone to tell him that they were closing. In October 2011, Baratta got to work with a team to build a mobile marketing platform that was cost effective and easy for small business owners to use. He knew that he was onto something.
The key differentiator with BizHappy is that users won't suffer from information overload. The app is meant to be hyperlocal, meaning that users save and have access to only the businesses that they frequent the most. BizHappy calls this collection of businesses the user's "Main Street." Each user will have a unique Main Street that they can access on their app. Some people may have the corner pizza place and a hair salon, while someone else may have a hardware store, a sandwich shop, and a dry cleaning business.
"This puts the consumer more in control of their app," notes Terri Ross, VP of Marketing for BizHappy. "With larger apps like Yelp and Foursquare, the customers and the business owners do not have control to share what they want, when they want. There is an app for everything, which is great, but as a customer I don't want all of that. It's all about simplifying life for everyone." She also adds that users are collecting on average 12 to 18 businesses on their personal Main Streets.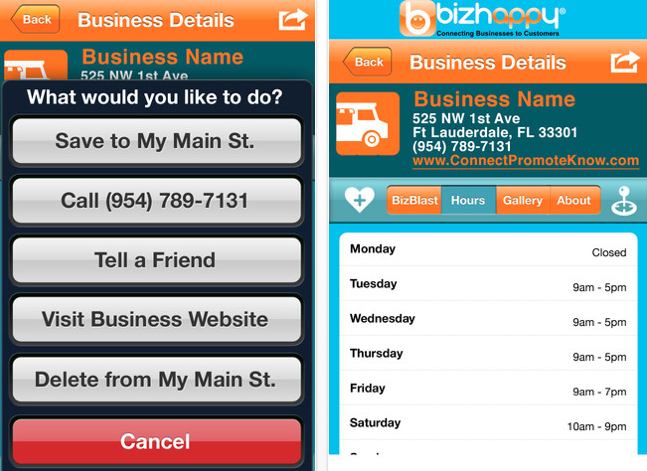 Th app costs businesses $299 annually or $29 monthly. The service also comes with a robust backend analytics reporting engine that displays page views, how many people have added a business to their Main Street, and how many people have shared the business on social sites. So far, the BizHappy team has found that besides small business in the restaurant and retail industries, religious organizations, sports teams, and wedding planners have also become interested in using the app to reach their audiences.
In the next few months, the BizHappy team will be strategically expanding their operations beyond Southern Florida by pulling national publicly available business data into their app.
Although many mobile marketing companies have attempted to understand the hyperlocal market, no one has succeeded. Mobile marketing platforms are built to handle the complex strategies put forth by major retailors with multiple locations and complex datasets. These larger mobile marketing companies don't understand what small business want: an easy and affordable way to play with mobile marketing without the steep learning curve or the hassle of maintenaning an app. BizHappy solves these problems because the team gets what small businesses really need.