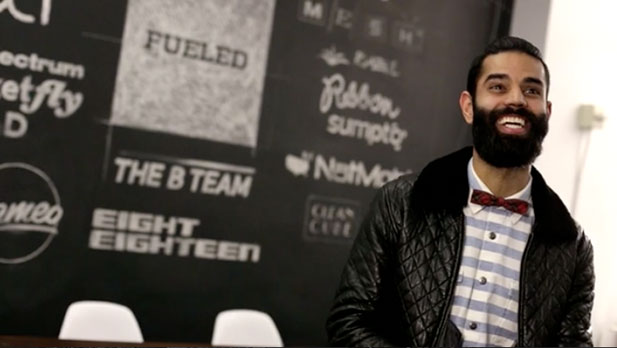 The much anticipated announcement from Apple has finally been made.  Yes. It's the iPhone 5S.  So, those pins and needles you've been on for months now with all of the rumors are finally over.  But, what do you do now?  How can you make sure that your business can not only take advantage of the advancement, but also not make a mistake by clinging to the past?
On Sunday prior to the announcement, I interviewed Rameet Chawla, Founder of Fueled.com, an award-winning mobile design and development company based in New York and London.  He shared some insights for what he's seen after looking at Apple's developer release of iOS7.  While he acknowledged that he did expect a few surprises, after all it is Apple we're talking about, the overall design that Apple is introducing with iOS7 will set a major precedent that will impact the world of web design.  And, you better be ready.
So why should you listen to this fashion-forward New Yorker?  Aside from having great personal style (He's been in magazines!), his company Fueled is responsible for building applications that have generated over $250 million in revenue. And they don't just work with big enterprises like Porsche, MTV, and Wendy's.  They also work with great startups like Ribbon, Fashism, and Elevatr, to name a few.  Furthermore, he has a co-working space in Manhattan called the Collective, which is home to 20 startups, so he truly understands how this can affect businesses, large and just starting out. He's been there as a fellow entrepreneur, looking to grow his startup, and is now giving back, too.
"I started my company in my living room, like many early entrepreneurs," said Chawla.  "It's pretty weird bringing people over to your kitchen table and trying to sell them or hire an employee in your apartment. I always told myself that it makes sense if someone has the ability to do it [build a co-working space], they could build out an amazing space and just fractionally give it back to smaller companies. So I promised myself when I'm able to do it, I'm going to."
So, what will be the big ideas of the future?  For Fueled, their focus is on building businesses, which mobile happens to be one of the more popular ways to build a company now. "Back in the day when you used to come up with an idea for a business, it was oh let's build a website, right? Now when you think of a new business, you think oh let's build an app," said Chawla.  "It's the outcome that new business ideas generally are surrounding an application as opposed to a website.  If you think about it, more than five years ago, it was always I have an idea for a new social network or a new whatever.  The premise was always the website.  That premise has shifted from apps being just a component to being a part of it to being the only platform."
With that in mind, it's important to pay attention to the change that's taking place with Apple's upcoming iOS7 release.  For Chawla, there are two big changes for the average user, the design and the interface.  "I think people are in some cases confusing those two things.  Everyone is talking about skeuomorphism and how that's changed; I hate to even use that term because it's overused at this point," said Chawla.  "They've made some significant advancements in terms of the actual interface, the ability to get to certain features faster, and in this upcoming version in terms of design changes (that are amazing), they have elected to go with a more modern design giving up some usability."
How does Chawla see this shift impacting the user?  "I think it made it a little bit harder for people to get used to the interface compared to before where it was very intuitive," said Chawla.  The example he provided of this is in the buttons.  Before you would see blue and gray buttons to click on. Now, they've removed the borders, which allows them to enlarge the text and change its color.  It has essentially become more like hyperlinks on the web, as opposed to buttons.
"People are going to get used to it, and it definitely is a better design.  There's no question in terms of it being aesthetically more pleasing and in some ways more readable," said Chawla.  As for the impact it has on design overall… That's a little more complicated.
"We've already started to see navigation items on websites go from headers or footers to now seeing navigation on the left where the whole site just slides down and you have a menu," said Chawla.  "If you look at Fueled.com from a mobile phone, we actually collapse our menu into a left nav.  What's interesting is people are so focused on responsive [design] now, that they'll use the same elements and almost reverse engineer them.  They take what it would look like on a mobile [device] and then expand them to what it looks like on a desktop without redesigning the element. Because everything is so responsive on the web now, everyone who does mobile design for an app will have to similarly design it for the mobile web and then translate it to desktop. It will directly affect the desktop experience, and it's not like prediction, it's fact.  That is what's going to happen; there is no question there."
One of his biggest points, though, goes beyond just the static design.  With the new iOS7, Apple has placed emphasis on motion graphics, which just wasn't there in earlier versions.  "One of the big differences in iOS7 is their movement of elements is gorgeous.  Some apps, including apps we produce, we pay closer attention to the animation.  What's great is now the platform validates it in a way," said Chawla.  "Something to think about for people who are designing apps is there should be another phase after design, which is motion.  You have your strategy, your wire frames, and your design, and then really you should go through a round of motion design and figure out exactly how those elements are going to be moving."  Chawla says that's the difference, adding that high level of polish by paying attention to the motion, that gets you on the same level of some of the native apps in the store.
What can startups learn from this? Pay attention to these new developments, study the design, and make sure that you update any apps you already have out there.  "There is going to be more inherent value to use an iOS7 app.  The user will feel like the app is still in production and viable, where as the product will feel really dated if not designed for iOS7, so make sure you update," said Chawla.  "You don't, people will perceive that your company is not updating its products."  Essentially, you'll become irrelevant.
In addition to the stellar new design, Chawla is also excited about Facetime Audio, which he says is one of the most compelling new features that people aren't talking about.  "This is like huge! And, there's no chatter about it," said Chawla.  It's similar to what Apple did to text messages when they launched iMessage, but now they're taking on your carrier's minutes.  Essentially, you can call any other iPhone through your data plan or wi-fi connection to talk, without the video.
This new feature also means that you can more easily use your other devices as a personal cell phone.  For my call with Chawla, he had lost his iPhone the night before and was talking with me through his iPad by forwarding his cell phone number to Skype.  With Facetime audio, that becomes even easier.
So with all these exciting updates from Apple, are you poised to take advantage?  Take a few tips from Chawla and get your company ready for iOS7.