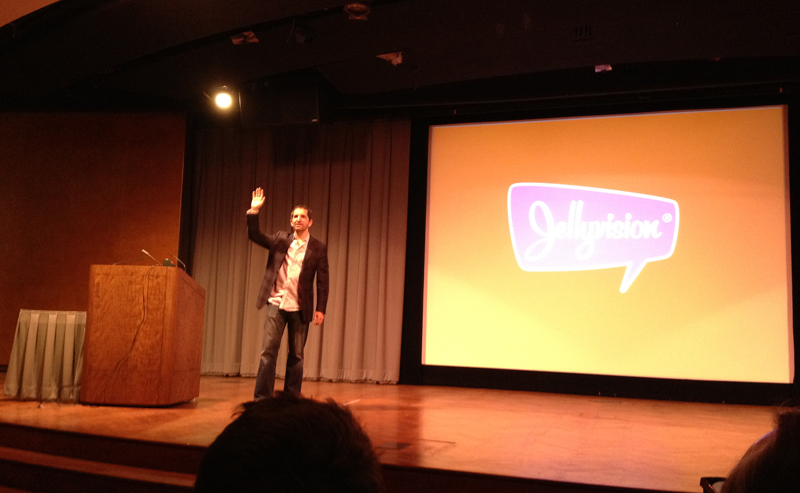 Technori Pitch is a monthly platform for Chicago startups to showcase their services to an audience of entrepreneurs and enthusiasts.
This month's Technori Pitch event opened on a high note as keynote speaker and Jellyvision founder Harry Gottlieb took the stage. Gottlieb wasted no time introducing the company's most famous product, You Don't Know Jack, which he announced will launch soon as a freemium Facebook game.
The Jellyvision founder spoke at length about the difficulties of running an interactive media company as the CD-Rom market plummeted right at the turn of the millennium. The company had to create a new division to stay afloat, which became an entertaining, interactive multimedia platform called Jellyvision Labs. Gottlieb went on to demo a product of the newer division, which was a highly interactive presentation containing many different branches as the user gave answers.
Gottlieb closed his keynote by emphasizing the importance of hiring a good team above all else. The founder spoke at length about Jellyvision's policy to never hire someone based solely on their credentials, but to equally take a "gut feeling" into account. "Hire slowly," he told the room full of entrepreneurs, "wait to get the good people."

On the heels of Gottlieb's keynote, Jaime Brugeuras of analytic service Mineful took the stage. Brugeuras prefaced his pitch by warning that "very few of you are going to be interested in this talk… if you're a geek like me who loves numbers and data and how it applies to business then this will blow you away." Mineful focuses primarily on customer retention, and takes into account a wider range of analytics to achieve retention than most other services. Its biggest feature is that it allows companies to dynamically create customer-specific emails that take into account personalized analytics. Mineful is targeting smaller companies and online retailers specifically, who on average lose 25 percent of their customers every year due to blind mass email spam.

Peter Brown from RecSpon was the next to take the podium, introducing his service that aims to more easily match recreational sports teams like softball and volleyball to bars who are looking to sponsor them. With the service, Brown aims to solve the currently disorganized process of applying for sponsorships at bars, connecting teams with interested establishments directly on a centralized website. The service will be free for those signing up, and Brown is looking to contract bars that want to bring in groups of people on off-peak nights. Brown emphasized that RecSpon only makes money if its customer (the bar) makes money. The company is currently developing APIs for bars to track how many people came and how much they spent, as well as Facebook and Twitter integration for teams.

NoRedInk is an interactive grammar learning service created by Jeff Scheur, an English teacher of eight years. Scheur is looking to improve the current system of papers returned covered in red ink – a process that he believes fails to offer improvement for students. NoRedInk makes learning and improving grammar an immersive, relatable experience to the student by connecting directly with their interests.
When a student signs up for the service, they are allowed to choose several of their personal interests including music, television shows, and even Facebook friends. The service takes this information and works them into sentences, which must be corrected for grammar by dragging and dropping punctuation into the generated examples. Scheur emphasized the importance of relevance when teaching kids. "They want to learn," he stressed.
While being fun on the learner's end, it's also extremely useful to teachers, who can see analytics of each student and overall trends about what specific grammar lessons need to be taught in the classroom. Scheur launched NoRedInk only eight weeks ago and there are already 11,500 students at 2,600 schools using the service. Educational giant McGraw-Hill has already expressed interest in the company, which aims to begin a seed round of $500,000 this summer.

Co-founders Jesse Pinho, David Vosburg, and Dan Salcedo of the MobCart team stormed the stage with matching red shirts and a pack of toilet paper. The startup used the bath tissue to illustrate the beneficial and cost-effective principles of wholesale. MobCart wants to give the power of wholesale purchasing to the people on more expensive items like electronics. The team emphasized the importance of not changing the way you use the web, allowing its users to simply click a toolbar link when they see an item on any website that they'd like to purchase. Clicking the button joins you up with a "mob" of people who also want the item, allowing MobCart to enact a wholesale purchase without any one individual taking on the bulk price of the sale.
On average Mobs take 72 hours to complete the required number of people to secure a wholesale purchase, though the team admitted that niche items will likely take longer. Once an interested user has clicked the join mob button, they are obligated to complete the purchase once the mob has reached full power, though more ambivalent users can simply "follow" a mob to see how it pans out. The company already has partnerships with retailers like Best Buy and New Egg. Since launching their beta more than a year ago 1,500 products have been succesfully purchased by mobs.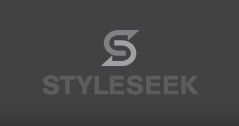 StyleSeek CEO Tyler Spalding sauntered onto the stage to introduce his revolutionary new fashion service, touted as "Tumblr meets Pandora for e-Commerce." The new service will tap into the $105 billion men's wear market, targeting those men who simply don't know how to go about finding clothes they like. For StyleSeek, relevance is an absolute key factor, and the company has spent a year and a half solely working on its recommendation algorithm. StyleSeek allows you to take images of fashion you like and put them together in a single portfolio, from which the service learns about you and creates a "style DNA."
This style DNA can be shared and imported from other users whose fashion sense you admire. Spalding admitted that the service already has DNA profiles built from stylish fictional characters like Tyler Durden of Fight Club and James Bond. Spalding emphasized the importance of providing relevant information, which will keep men on track to finding the clothes they like and need – a process that is often complicated by searching through endless fashion blogs and online shops.
In the following Q&A, Spalding quashed any comparisons to Chicago-based fashion service Trunk Club right off the bat, producing a prepared answer from his sport coat before the burning question could even be asked. The founder admitted that he considers himself "an embarrassment of a man" because he never felt comfortable buying clothes online. Spalding cited this problem as his primary inspiration to create the personalized style service, which he believes will prove invaluable to men of all levels of fashion awareness.
The service will have access to over 1,600 men's wear brands, and can even integrate directly with Pinterest boards, importing all of your favorite images to create a unique style profile. Spalding said the company currently has no plans to expand beyond its "razor focus" on mens fashion.