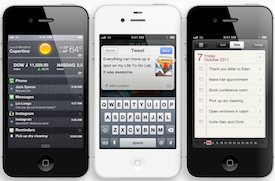 According to Apple's new CEO Tim Cook, the iPhone is currently the world's most popular smartphone with 90% of Fortune 500 companies testing or deploying the phone.
After what seemed like a year full of rumors and speculation, Apple has finally introduced a new phone to its lineup: the iPhone 4S. Some iEnthusiasts might be disappointed by the lack of an iPhone 5 — Apple's stock dropped 5% after today's 4S announcement.
The iPhone 4S will keep the same design as its predecessor. It won't have a 4-inch screen as rumors suggested, but it will be available in both black and white on October 14th. Something also worth noting is that Apple took efforts to avoid another Antennagate by implementing a dual-mode GSM/CDMA antenna for the 4S. This means that Apple can distribute just one model instead of creating a separate phone for different carriers.
Photogs will be excited to know that the 4S will feature an 8-megapixel camera with 60% more pixels than the 5-megapixel camera in the iPhone 4. And for the first time ever it will include 1080p video.
The battery life has slightly improved boasting 8 hours of talk time, 14 hours of 2G talk time, 6 hours of 3G browsing, and 9 hours of Wi-Fi browsing.
The big moment, for us at least, was the announcement of Siri, a new voice activation feature. "Because it is capable of parsing natural human language, it can respond to a question such as 'What is the weather like today?' with an answer it finds online," states Mashable.
Siri is capable of a variety of tasks, including scheduling meetings, reading emails, finding directions, checking the weather, searching the web, creating notes, and so on. While impressive, it's still slightly disconcerting to anyone wary of the robot apocalypse.
The iPhone 4S will be released on October 14th for $199 on AT&T, Verizon, and Sprint. iOS 5 will be released on October 12th. You can learn more about what iOS 5 has to offer on Apple's website.