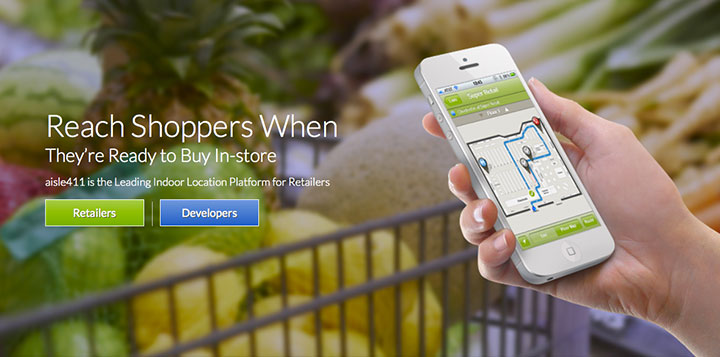 After recently announcing a $6.3 million raise led by Cultivation Capital, St. Louis-based indoor retail mapping platform aisle411 that helps consumers quickly find what they need while shopping, continues its trajectory upwards.
The company — which is used by major retailers like ACE Hardware, HyVee, Walgreens, and Home Depot across the U.S. —  just announced a partnership with YCombinator darling Estimote, which develops sensor-based analytics and engagement platforms to enhance the in-store shopping experience for consumers and retailers alike.
The technology offerings from aisle411 and Estimote together fully-digitize retail shopping environments, combining aisle411's mobile indoor maps and searchable inventory with Estimote's Bluetooth, low-energy indoor location technology.
"aisle411 is changing what it means to customize the consumer shopping experience inside a retail environment," said Nathan Pettyjohn, CEO of aisle411. "Our technology puts a store's entire inventory in the palm of a customer's hand by way of a searchable indoor map. And with Estimote, aisle411 can take the shopping experience one step further by messaging the shopper with unique information and offers based on a shopper's location within the store, creating a best-of-breed marketing platform."
aisle411's technology platform communicates with Estimote's "Beacons" — small sensors placed strategically throughout a retail store that are equipped with Bluetooth 4.0 low-energy technology and compatible with Apple and newer Android smartphones. aisle411's proprietary location platform interprets the beacon, store location and shopper intent to deliver relevant messages – perhaps welcoming the customer back to the store, asking the customer if they need assistance once they reach the product they are searching for, or displaying coupons for items they are currently near.
"We are extremely focused on applications of our technologies that will bring a real value to end consumers," said Jakub Krzych, CEO of Estimote, Inc. "Indoor navigation and product search are the most important problems to be solved in order to improve the in-store experience. aisle411 has demonstrated leadership in the mobile indoor maps, and together with Estimote, both companies are creating standards for the smart retail strategy."
The partnered technology is currently being beta-tested in major home improvement and sporting good retailers across the U.S., and aisle411 and Estimote expect to scale the combined solution nationally in the first quarter of 2014.
"More than 90 percent of retail sales still occur in physical stores and over 50 percent of shoppers now carry smartphones," said Pettyjohn. "aisle411 combined with Estimote is the Holy Grail retailers are looking for – a platform that will influence how billions of dollars in product purchase decisions are made in store with a mobile device."