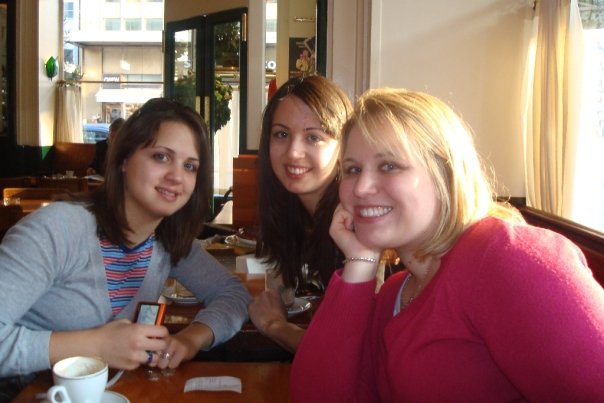 Oddly enough, Aubrey doesn't even like coffee. But, as you can see above, she understands that others do. Here she is in Geneva with her sister and friend enjoying a cup of joe.  
When I first heard about this project, two things went through my mind.  One, what's the catch?  Two, is this even safe?  I consider myself to be fairly Internet savvy, but we've heard enough stories over the past few months about "Catfishing" to make any offer, romantic or not, seem a little skeptical.  (If you're not sure what this term means, just think Notre Dame football star Manti Te'o or watch the MTV series.)  To be clear, this is not a romantic offer.  Aubrey has a boyfriend, so guys don't get any ideas…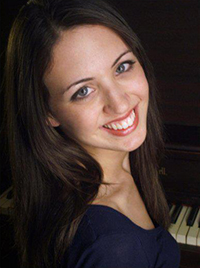 So, what is she offering?  It's as simple as the website URL: www.freecoffeewithaubrey.com. Aubrey Bates (pictured left) is a Webster alum, who works in marketing for Clear Channel.  All she wants is to buy you a cup of coffee and chat for 15 minutes.  Her goal is to make 300 new connections in St. Louis in the next six months, and those connections can be from any job field.  "While it'd be great to meet someone in marketing, because of what I do, but if not that's fine too," said Bates.
The idea came initially as a way to help her in her current job, but since implementing this social experiment it has certainly evolved.  "I've been there [Clear Channel] a year now, and it's difficult to make cold calls and have people want to talk to you. This started as a way to have people reach out to me, but after thinking about it, just from a personal standpoint, it's great to meet people and know people in St. Louis.  It started as an interest for work, but it's turned into much more than that," said Bates.
This project has certainly taken on a new dimension, and it's quite popular.  In just a week and a half, Aubrey managed to attract attention with more than 1,300 unique visitors to her site.  Even though she's only met with five people at this point and scheduled a few more, she's cautiously optimistic it will continue to gain some steam.  "Honestly, right now at the pace I'm going, I don't know if I'll make it.  I'm pushing on social media and I've had a lot of page views, but not many are taking me up on my offer," said Bates.  "I think most people are worried I'm just going to pitch to them, but that's not what this is."
Check out her website to learn more about her and follow her adventures around St. Louis.  She's blogging about everyone she meets, sharing interesting tidbits of her conversations with these newfound friends.  You should consider being at the center of her next blog post by taking her up on this offer.
After all, it's a big goal to hit, and Aubrey needs some help.  So what's stopping you St. Louis?  Take it from someone who has met with Aubrey, Aaron Unell.  After meeting her, he left the following message: "The pleasure was mine! It was so great learning more about you and making a great connection. For the others who are skeptical – I encourage you to reach out and meet with Aubrey."
Speaking from experience, I can tell you Aubrey has a fun personality and an enthusiasm that is completely contagious.  It's worth your time to meet her, and who knows, it may just turn out to be a very valuable connection.  And if not, you at least get to enjoy a nice, hot cup of coffee for free.
What do you think – Would you consider a project like this for yourself? Do you think she'll hit her goal of 300 new connections?  Let us know in the comments!