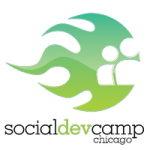 Social media fatigue is real, and so is social media event fatigue. I'm as guilty as the next geek of sifting through the endless array of tweet-ups, conferences, and webinars and thinking "will this one really add value or visibility for me or my company?' Maybe your only criterion is that it has to have food, be free, or be happening in a certain part of the city or state. For me, I balance price, location, speakers and subject, and SocialDevCamp in Chicago scores very well in all of these categories.
If you are even a casual fan of the social space, you may be wondering if SocialDevCamp is for you. For my Milwaukee friends (and those in other distant areas) sometimes the thought of venturing to Chicago for the weekend may have them wondering if it's worth the trip. To help you out, here's a 7-reason list why I would encourage my social media friends to sign up for SocialDevCamp on August 26th-28th:
Keynotes: Seriously, do you need a better reason than Julien Smith, Alexis Ohanian, and Robert "Robot" Taylor? The second social media book I ever read ("Trust Agents") was co-written by Julien and Chris Brogan, and Julien himself has suggested that we hang out. If you don't know Alexis Ohanian, you certainly know his work in the form of Reddit and Hipmunk. Rounding out the keynotes is longtime IT guru Robert Taylor from Rackspace, who has to make people who come to social media from IT geek out.
Featured Speakers: Any social media enthusiast who has been in the space for awhile has to be familiar with the solid lineup at this year's camp. Representatives from Google, Groupon, W3C, and a host of others will be offering insight into best practices of all kinds.
Social Good: Speakers like Emile Cambry, Jr., the founder of the 21st Century Youth project that teaches app development skills to middle- and high school kids and Nico Preston, Ph.D. who's doing eco-friendly research with the dotSkapes Project may just inspire you to want to make the world a better place, too.
Unconference: The unique conference style of letting participants suggest and vote on sessions ahead of time to allow others to break off into smaller discussion groups and share ideas. It's social IRL!
Networking: Unlike a stuffy, uptight conference where the company name on your nametag makes the decision for other attendees to talk to you, SocialDevCamp prides itself on mixing all kinds of different participants in one fishbowl and encouraging everyone swim together. The results are far more productive.
Smaller Group Size: The more intimate setting of many of the meetings and breakout sessions makes it easier to stretch out, set up your laptop, and bang out a blog post on all of the awesome stuff you're learning.
Cost: With reasonably priced hotels in the area and admission price still at only $75 for the entire weekend's activities, SocialDevCamp is affordable, too. Forget spending hundreds of dollars to attend a giant social media event where the self-involved speaker is a faraway dot on a stage.
So there you have it social media fans: 7 great reasons why SocialDevCamp is not just for developers. If you do have some coding skill however, there will be plenty of caffeine-induced hacking going on as well.
The registration link for SocialDevCamp is here, and if you need one bonus reason to go, remember that your favorite tech blog Tech.li is a media sponsor for the event, so be sure to say hello to members of our staff when you see us. See you at SocialDevCamp!