Any venture capitalist will tell you the best way to attract their attention is to get to know their investment history. An effective way to do this is to follow them on social media platforms. Once you know a bit more about them, you can personalize your pitch.
Relationship building is a key part of any funding process. Investors might be more likely to respond if this isn't a one-off interaction. For them to invest in you, you need to do the same.
The first step toward connecting with the right VC is to follow him or her on Twitter. Here are 10 must-follow VC on Twitter that actively tweet advice and interact with their entrepreneur followers. ( Or follow them all, by subscribing to Tech.li's 'Top VCs' Twitter list)
1. Mark Suster: Follow @msuster for startup advice and conversation. Suster is a general partner at GRP Partners in California. He's great at debating with entrepreneurs, and he admits mistakes if people point them out. As a former 2x entrepreneur, he gets the game.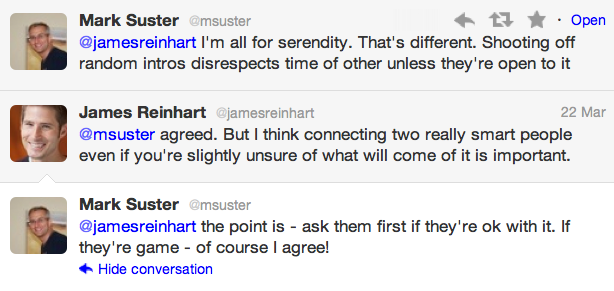 2. Fred Wilson: Follow @fredwilson to dig into the mind of one of the most sought after VCs at Union Square Ventures. Wilson was around when the first dotcom bubble burst in NYC, so he's not green in this field. By following him on Twitter, you'll learn that he loves music and attending events around NYC and beyond. He also tweets references to his blog, including links to a popular series for entrepreneurs called MBA Mondays.

3. Shervin Pishevar: Follow @shervin for a healthy dose of inspiration when the going gets tough. Pishevar is the managing director of Menlo Ventures, but he's also a social activist, entrepreneur, and accomplished researcher. Among his many accomplishments, Pishevar also helped author a paper at 21 years old that led to the Istanbul Protocol – the first set of international guidelines for documentation of torture. It became a United Nations official document in 1999. Tune in to his feed everyday for reminders that changing the world is possible.

4. Eileen Burbidge: Follow @eileentso for a little dose of startup reality. Burbidge is a VC at Passion Capital, and was previously a product director for Yahoo! Answers and Skype. She brings a practical, grounding point of view to entrepreneurs who have their heads stuck in the clouds.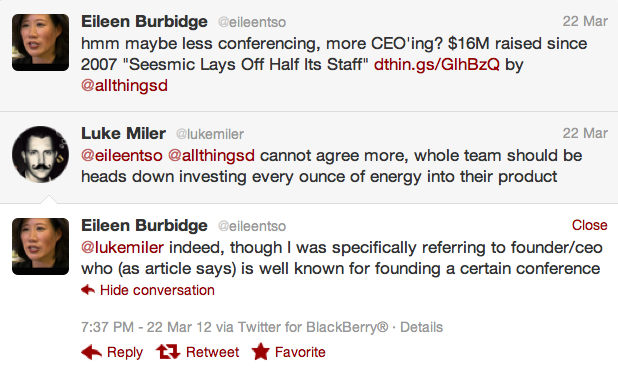 5. Brad Feld: Follow @bfeld for observations from the real life of a VC. Feld tends to rant and a he doesn't treat entrepreneurs with kid gloves. As one of the most successful VCs in the U.S., he doesn't have the time or interest in sugar coating startup advice.

6. Dave McClure: Follow @davemcclure if you need a kick in the butt. McClure is the founder of 500 Startups and is a member of the Paypal mafia. He brings the thunder thanks to his passion for helping entrepreneurs build companies and his intolerance of idiotic startup mistakes. His feed is rated R, and he likes it that way.

7. George Zachary: Follow @georgezachary for thoughtful analysis of startup trends. Zachary is an early investor in Twitter and is also a member of the Charles River Ventures team.

8. Rob Go: Follow @robgo for curated links. Go is the co-founder NextView Ventures, and he was formerly a VC at Spark Capital. He doesn't get super opinionated, but his links are always interesting and relevant.

9. Christine Herron: Follow @christine for startup news peppered with family life. Herron is an advisor at 500 Startups and an investor at Intel Capital. She hangs with the Valley tech elite and demonstrates a strong understanding of the startup ecosystem.

10. Esther Dyson: Dyson is not a VC, but she is an active angel investor who lies at the epicenter of all things tech. Her father was the physicist Freeman Dyson and her mother is the mathematician Verena Huber-Dyson. She has worn many hats in tech including journalist, angel investor, and entrepreneur. Dyson continues to invest in innovative industries like aviation and commercial space, healthtech, and genetics. Follow @edyson for tech news and event coverage. It's also worth paying close attention to her personal follow recommendations.

Top investors tweet the pulse of the industry. By paying attention to the VCs that you want to impress the most, it could help you gain an edge when you encounter them in the offline world.
Photo provided by pond5 — the world's stock media marketplace.