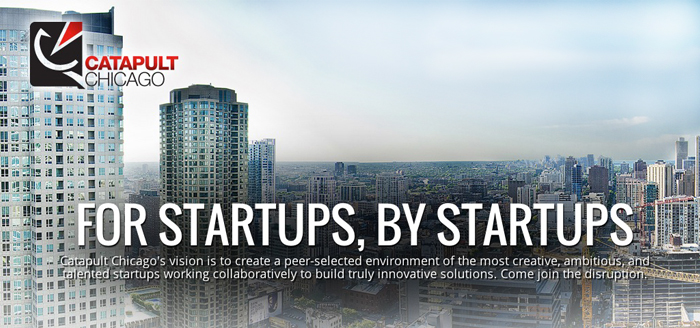 1871 may be the big name in startup coworking space in Chicago, but another cozy incubator with an atmosphere all its own has been growing just across the river. Catapult Chicago touts itself as a space for startups, by startups, utilizing a unique peer-selection process to vet each company that makes its home high up in the 25th floor River North startup community.
The incubator has both offices and open coworking space, and focuses primarily on startups who have between 4 and 15 employees and are already raising capital. Catapult is currently home to startups including StyleSeek, MentorMob, Shiftgig, and BucketFeet, among others.
The space was co-founded by Ryan Leavitt, Vishal Shah (both team members of Catapult-headquartered company VLinks Media), MentorMob co-founder Kris Chinosorn, along with attorneys Chris Cain and Galen Mason. Initially planned to be a bootstrapped operation, the three discovered that the Chicago office of law firm Foley & Lardner was interested in supporting entrepreneurship in the city. Leavitt, Shah, and Chinosorn eventually met up at a Cubs game with Foley attorneys Cain and Mason to discuss the creation of a peer-selected coworking community. The founders wrote a proposal and three days later Foley gave them half a floor of unused office space in which to launch the ambitious incubator.
Leavitt, who is president of Catapult Chicago, explained that the peer-selection process was important from the very beginning; the plan was to give each occupying startup the ability to shape the 12,000 square foot coworking space. "It's run by entrepreneurs who wanted to build a community that is run by other entrepreneurs," said Leavitt. "The idea was that we wanted the entrepreneurs to say who were the best companies with the best people, who they wanted to work with, and who they wanted to learn from."
While coworking spaces like 1871 host a large variety of startups at different stages of development, Leavitt said it was important to keep the Catapult community under 100 people and make sure that each company was around the same stage. "If you get too many, you start to lose that personalized feeling," Leavitt said. "You start to lose the true trusting relationship that you can build in a smaller community… These companies are having similar experiences at the same time, and can help each other."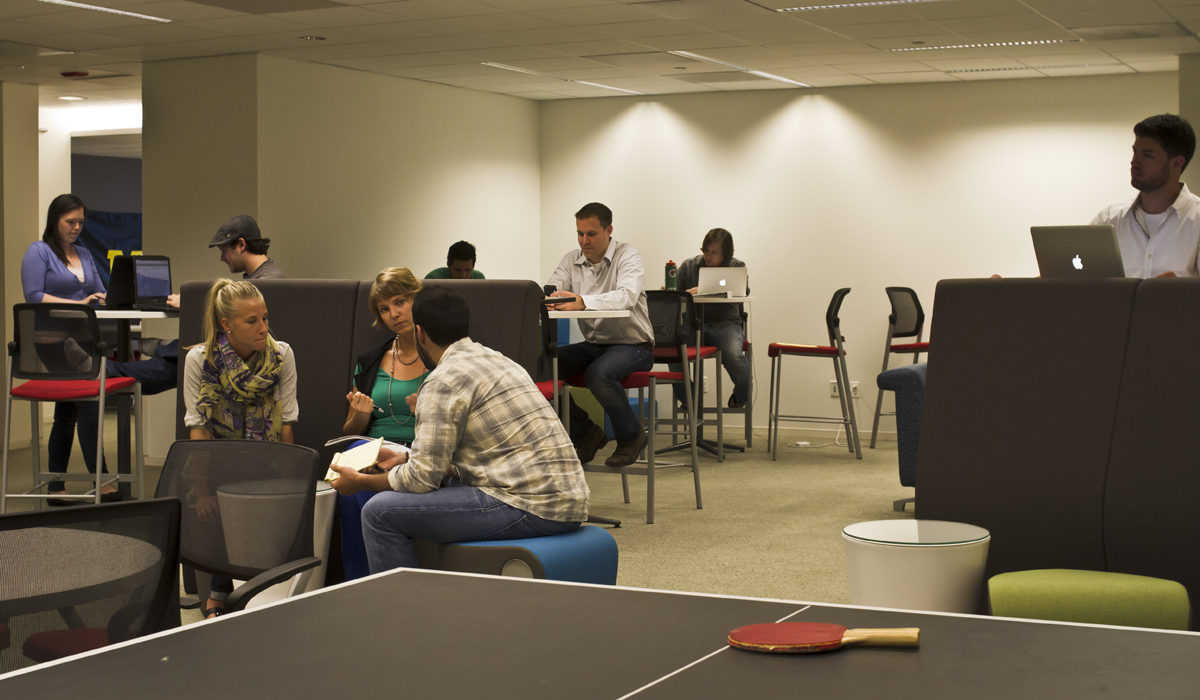 Open coworking space is still available, and Catapult will have an office opening up at the end of this year. Leavitt said that he encourages companies looking to settle into the tight-knit community to start networking with the startups that already call Catapult home. "If your company is at the stage where you have traction, a great team, and you're looking for a place where you can work with other companies at the exact same stage as you, that's the important thing," Leavitt concluded.
Visit the Catapult Chicago website to find out more about the entrepreneur-focused startup community and the startups growing in tandem within its walls.