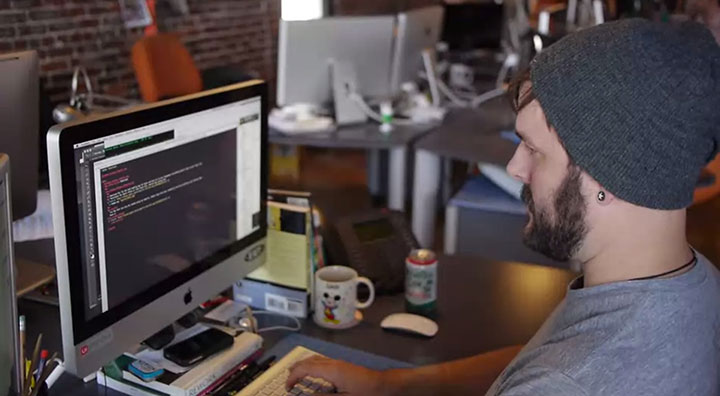 If you're even halfway paying attention to the Internet, you likely know about WordPress, a very popular content management system.  What you may not know is the extent to which it powers the web and how accessible it is for beginners.  I talked with Zac Gordon, a teacher at Treehouse, the company that is helping 67,000 plus students learn web design, development, and a whole lot more, about why this platform has become so popular, as well as some of its disadvantages, too.
"WordPress is a popular one because it's free.  It's able to get a really wide market share," explained Gordon.  "It's also really easy to use, and in recent years, it's gone from being something that was really more for blogs and simple websites to being able to make more powerful sites with ecommerce support.  Its ability to handle custom content is much better, too.  They say it powers something like a fifth of all major websites."
He also shared that it's often a more appropriate and plausible solution in some cases when compared to building a custom site or application, mainly because it can be done with plugins.  "You can do stuff a lot easier is its biggest appeal," he said.
More than that WordPress is free, it's a great resource for startup entrepreneurs because of its low barrier to get things accomplished.   You don't have to have a lot of coding expertise to do really powerful, beautiful websites.  "You install a theme and customize it, meaning you might edit 10-15 lines of code," said Gordon.  "And if you've never coded, you click one and install it.  From a developer, it's super helpful. Learning WordPress, you don't have to become a full on web developer, either."
However there are disadvantages to WordPress, too.  "After a certain point, you have to hack it and bend it too much to fit what it is you have to do," said Gordon.  "That's the disadvantage."  He also shared that the main argument people make for proprietary software is you have a company behind it that is reliable and you're paying for support.  "If you're not paying anyone for product, who do you blame when something goes wrong?" Gordon asked.
Gordon has been a teacher for several years now, first getting his start teaching high school students about web design.  One of the interesting things he did for his high schoolers is he allowed them to gain experience with internships.  They'd spend a few hours of class time creating $800 websites for local businesses.  And while you may think that's only for high school students, there's a real market for individuals with WordPress skills to do the same thing, no matter what your age.
"The biggest thing I encourage people with WordPress is it empowers you to make client websites, which can generate you $2,000 per site pretty easily," Gordon explained.  "You don't need much technical or design know how.  If you can search free themes, know a little bit of code to customize them, that's generating a lot of money for you rather quickly.  It's something you can ideally do in a week or over a weekend, generating hundreds of dollars for your time.  That's really why you should learn it from a developer's perspective."
In addition to the opportunity WordPress provides his students, Gordon also loves that it has its own ecosystem.  "You have such a cool community around it who aren't just developers.  You have people who use it for all sorts of things," he said.  "It's got ready-made plugins and themes, but it's super accessible for someone to learn CSS, too.  So, the barriers to entry it removes from making high quality websites is really exciting, and that's exciting as a teacher because you want to see students exceed and be excited about what they do."
Whether you're a fan of WordPress, or not, it's a good idea to make sure you understand how to use it.  Treehouse offers several courses, many taught by Gordon, to help you learn quickly and efficiently online.  Whether you want to take a more advanced class on building websites with WordPress or a beginners' class on admin settings, you can find their full suite of WordPress specific classes here.
You can gain access to Treehouse's library of online videos for as low as $25 a month for its basic package.  "All of the videos are geared to be 2-3 minutes long," said Gordon.  "It's something you can work through in a couple of hours."
So, no excuses startup entrepreneurs.  If WordPress has been on your radar for a while, Treehouse can get you up to speed in a hurry.