Is the solution to unreasonable energy bills as simple as keeping a close eye on your usage? Wattvision, a green tech startup based out of Princeton, New Jersey, believes it might be the key to reducing the more than $130 billion wasted in energy by American's each year. The company has developed a system that allows homeowners to keep track of their energy usage in real time using an easy-to-install sensor paired with a mobile app. According to the creators of the system, keeping tabs on your energy consumption each month can save you 20 percent on your electric bill.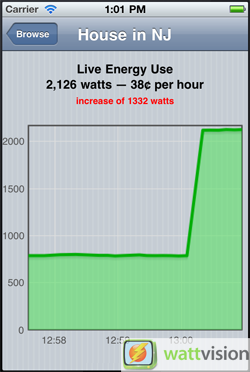 Wattvision works by attaching directly to the outside of a home's electricity meter. Whether its analog or digital, the sensor collects the information and sends it to the Wattvision Gateway, which connects wirelessly to your home's wi-fi network, providing real-time data about your energy usage to either a desktop or mobile device. Users can set up daily, weekly, and monthly energy goals, and receive email or text alerts about their usage.
Aside from saving an individual homeowner some cash each month, the creators of the system have ambitious globally-conscious energy saving goals in mind. The Wattvision website allows customers to track their individual progress and compare their energy savings with the entire network of "Wattvisionaries." In the long run the team is hoping to organize energy saving days each month that bring the community together to collectively cut down on power usage around the globe.
"It's much bigger than just saving money on energy as an individual, it's about collective action to reduce our energy use and mass across the country," said Wattvision founder and CEO Savraj Singh Dhanjal. With the Wattvision network, Dhanjal is hoping that through shared data individuals will be able to see just how much of an impact even the slightest changes in energy usage can make as a community.
The company has just begun a Kickstarter campaign to fund the development of the system's second iteration. Early backers can get a Wattvision 2 for a donation of $149 — $100 less than the projected retail price — or a Wattvision t-shirt ($25) to simply show support. The Kickstarter already has nearly $20,000 donated by more than 140 individuals and a month still left to go. Visit the Kickstarter page or the company website to find out more about the first steps to becoming a Wattvisionary.