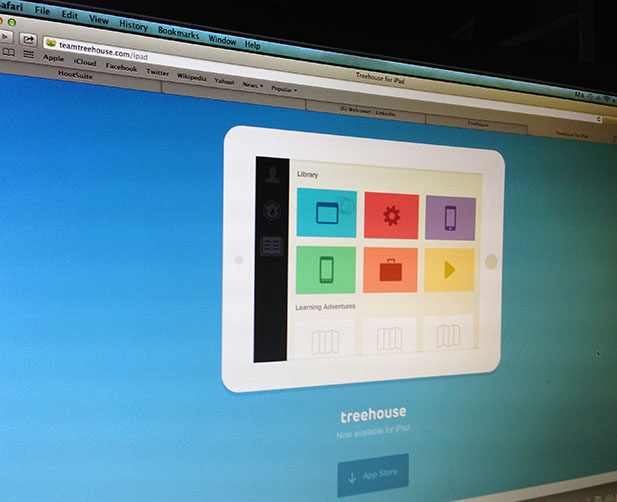 What does real passion sound like? Ryan Carson, CEO of Treehouse, has it.  In his fourth startup now, he knows a thing or two about being an entrepreneur and what it means to truly be excited about your work.  With genuine emotion, he explained,  "I'm old enough now, I'm 35, and I have kids; I've started to realize life is really short.  And, I wanted to do something that would have as big an impact as possible.  What could we do that would be really affordable for people that would actually change their lives and is scalable to millions of people?"
He was talking about Treehouse, an online learning environment that specifically teaches about technology, whether that's building websites, creating iPhone apps, building web apps with Ruby on Rails, etc.  They have 14 full-time teachers, giving students access to over 1,000 videos on topics such as web design, coding, business and more.  And now with their newly launched iPad app, it's even easier for students to learn.
"I'm so passionate about what we're doing that it's the first time in my entrepreneurial career that I want Treehouse to be the thing I'm remembered for," said Carson.  While it's still a little early to tell whether that will be true, Treehouse is teaching the skills that are desperately needed in today's world, and could mean a huge difference for Millenials and others who are struggling to find work.
When you look at today's Millenials specifically, American teens and twenty-somethings ages 18-29, there are many interesting stats profiling this new face of America – Some you may or may not like so much.
PewResearch describes them as "confident, self-expressive, liberal, upbeat, and open to change."  Which sounds about right when you consider that three-quarters have created a social networking profile, nearly four-in-ten have a tattoo, and one-in-four have a piercing somewhere other than their ears. No matter your opinion on this generation, one thing is certain.  Millenials are on track to be the most educated generation in American history.  Pew cites that its "most likely accelerated by the millions of 20-somethings enrolling in graduate schools, colleges or community colleges in part because they can't find a job."  But, is going to a traditional college or university the right answer?  Maybe not for everyone…
Treehouse is offering an alternative for individuals looking to be job-ready in the tech field, and it doesn't involve your traditional university.  This disruption to the way individuals learn is something Carson feels we'll begin to see more and more.  And for the price and value of the education he's offering, it's hard to argue with him.
"What we're trying to do, what we think we can do, is make you job ready in six months for as little as $150.  Why would you not do that," said Carson.  "It's about breaking down parents' belief you have to go to college."  While it's still early to know whether this new trend has any staying power, Carson believes it will separate into two types of people between "those who can afford to send kids to college and those who can't."  Furthermore, he stated, "Those who can, always will.  Everyone else who can't afford it, will realize it's not worth it to go into debt.  They'll then go to trade schools, whether online or in person, and there will be a direct connection to an actual job there."
It's important to consider how individuals learn these days.  Can you be job-ready in an online-only learning environment?  Treehouse is making a sound argument that you can. "We're 100% focused on making people job ready so that they don't have to go to college if they can't afford it or don't want to.  The iPad app is just another way of making it even easier to keep learning in your free time," said Carson.  "We have 37,000 students now, which is fun because it's approaching the size of a large university."
What Treehouse has done is made learning convenient.  The iPad app has many cool features, including what they call a code challenge.  Students can actually write code to pass tests right on their iPad.  For those familiar with the iPad keyboard, trying to write code is challenging.  However, the Treehouse iPad app has placed the most used keys needed while coding at the top of the keyboard, making coding possible.  "We've found using the iPad app in its data form, we just learned a lot more.  It just felt totally different," said Carson.  "It was a nice, relaxing experience.  It's cool, and I think it will be really helpful for our students."
We're all experiencing how fast technology is moving, and there's becoming an increasing demand for those with certain tech skills.  But will it always be so specialized?  Carson shared his perspective, stating, "Instead of thinking about going into technology, it's actually kind of the reverse.  Tech is coming into every field.  Whether you want to be a mobile developer, web developer, web designer, or whatever job you want to do in the future, it will involve technology.  So it's becoming basically a form of literacy.  If you can't create technology and control it, you will for sure get left behind."