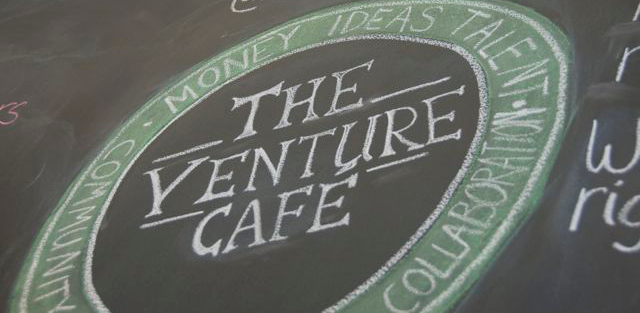 There's his early showing as an entrepreneur – he uses the word "hustler" – at age 5, when he lifted cobblestones from a nearby ponding basin, and sold them door-to-door for 25 cents each. There was the $25 he made mowing the lawn at his grandparents' preschool. There's his stint as a standup comedian. There are his four years as an Air Force firefighter. There are his degrees in psychology, conflict resolution and organizational behavior. He has taught college courses, run human resources and public relations departments, managed a bank, co-founded several companies. Oh, and let's not forget the monthly drinkathons – he calls them boozestorming sessions – he began hosting in California, and continues to host in St. Louis.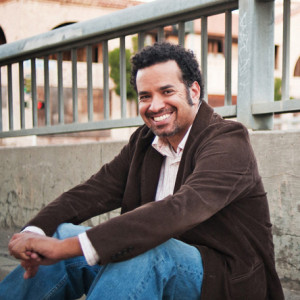 To some, it might look like mindless meandering in search of, or avoidance of, a career. To Travis Sheridan, 40, it was all excellent preparation for his current job, as founding Executive Director of Venture Café Foundation – St. Louis, an offshoot of Cambridge Innovation Center's successful networking venue for budding entrepreneurs and one of the centerpieces of the new CIC – St. Louis.
The rock business taught him about "unreasonable government constraints" – his parents wouldn't let him cross the street, so he couldn't expand his market. He learned about the perks of management when he "hired" his stepbrother to mow those lawns for $10, thus pocketing $15 for doing nothing. Comedy taught him that the best comedians spot the funny in the familiar – just as the best entrepreneurs spot opportunity in existing needs and products. ("Facebook didn't create the need for connectivity, and MySpace and Friendster were first," he notes.) Drinkathons, well, the value of informal networking and brainstorming seems obvious. The stints in big business taught him the value of branding – not just of products to customers, but of bosses to employees – and the problems that arise when a toxic culture gets entrenched
But perhaps most important, his forays into so many disparate fields taught him that innovation isn't confined to tech startups. The diverse guest list of his drinkathons constantly drives that point home.
"There are a lot of similarities between the guy who's selling T-shirts with a clever logo and the guy who's banging out code for a surefire app,'' he says. "I see innovation as a process for improving the human condition in an unconditionally constructive way, and that applies to government services, education, the arts, lots of things beyond tech and biotech."
That, in a nutshell, is the mission of Venture Café, whose St. Louis outpost marks its first foray outside of Massachussetts. And Sheridan, who took the job in July, has certainly taken that mission to heart. He hosts frequent lunches to which he invites representatives of specific industries, and picks their brains about what does and does not work in their companies. His 8-person advisory board includes a student and representatives from seven industries. Only two are white men over 40. Half are women, half are minorities, three are foreign born. (Sheridan himself is mixed race – "a walking Racial Divide,'" as he puts it.)
Sheridan takes his missions super-seriously, but he's quite willing to employ gimmickry to reach his goals. When he was teaching a course in business ethics, he "accidentally" left a copy of the answer key on his desk and left the room. Turns out, nearly everyone in the class took a peek. It was easy to differentiate cheaters from acers: It was the prior year's answer key. All but two students failed.
On a lighter note, he took a tip from the building-block game Jenga, in which each construction layer is comprised of three bricks, and the edifice wobbles if a strategic brick is removed. Relationships, he says in presentations, are built out of three bricks: I want to meet you, know you, help you. Skip any one at your peril, he warns – and often hands out bricks to participants, suggesting they keep them on their desks as a constant reminder.
Sheridan does acknowledge that it's a lot easier to foster innovation in startups than in established institutions that often have formidable bureaucratic barriers to new ideas. He walked away from his last big-business job in 2006, and never looked back.
A Californian by birth and temperament, Sheridan saw no need to leave his native state, though. He soon landed a job consulting with startups at a Fresno business incubator. He even co-founded a few himself, including one that crowdsources funds for local businesses, and another that runs contests and "hackathons" with an aim of increasing the local supply of computer programmers.
So relocation was the last thing on his mind when he visited St. Louis in 2011. He'd heard about the city's thriving biotech scene, and his fiancé – now wife – was born there. So he flew in, hoping to simultaneously pick some brains for best practices he could take home, and to meet his future inlaws. But they both fell in love with the architecture, the mix of Fortune 500 and startup companies, the sheer livability of the city. A few months later, jobless but high-spirited, they moved there.
Sheridan soon landed a job at the St. Louis Economic Development Partnership. And when he was offered the job to run Venture Café, he jumped at it.
But as fulfilling – and time consuming – as that job is, Sheridan is not quite ready to turn off the faucet on his own ideas. So he's set up TSIdeas as part of his personal webpage, on which he lists any concept, hairbrained or otherwise, that strikes his fancy. (Want examples? Go to travissheridan.com). It seems that eclectic is still the adjective – and adverb – that rules his day.