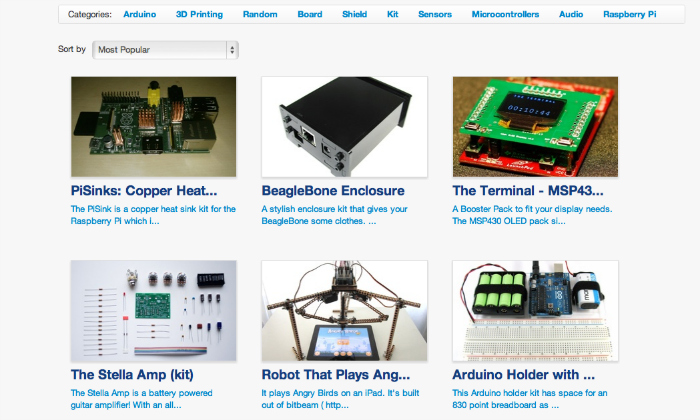 The rise in popularity of Kickstarter hardware projects like Pebble have made gadgets hot again. Because hardware is so resource intensive to produce, both small manufacturers and gadget tinkerers have found it difficult to acquire the parts needed to complete projects. Enter Tindie, a side project turned company that is a marketplace homemade gadgets, kits, & parts.
Tindie was developed by Emile Petrone, who has worked for Urban Airship, SimpleGeo, Yelp, and Redbeacon. Petrone is also a serial entrepreneur having founded Housefed and Knowble previously. Tindie has been live for two months, and initial user interest has been strong enough for Petrone to work on Tindie full-time. According to Petrone, transactions jumped from $646 in July to over $1800 in August, totaling 300% growth in 4 weeks.
Users can purchase parts for everything from Raspberry Pi to 3D printing. So far, the three most popular items are Crystal Thing-O-Matic laser cut parts, PiSinks: copper heat sink kit for the Raspberry Pi, and CNC experimenter's shield. The most expensive part listed is the Crystal Thing-O-Matic parts listing for $235, and the least expensive part listed is a PIC 18F4550 microcontroller for $2.00.
As expected, the site is already a hit with the hardware hacker culture that frequents sites like Hacker News and Reddit. Before Petrone started working on the site, he posted a forum question to Reddit, and the community response was a resounding "we want it!". Since then, parts purchased on Tindie have shipped to twenty countries, and the site has averaged 30k visitors per month.
Tindie is also perfect for gadget makers who aren't quite ready for the attention of Kickstarter.
"I think Tindie is perfect for people like me. I don't have the time (yet!) to dedicate a huge effort putting my projects up on Kickstarter. But by putting the project up on Tindie, and having a cap on my inventory, I can organically improve the project within my personal time constraints (credit tracey). I fully expect to ramp up inventory over time, but it's nice I can start at one or two items … and grow at a pace I'm comfortable with," notes user Jason Huggins on a message on Hacker News.
Now that Kickstarter has become the top place on the web for hardware companies to raise money for products, the launch of Tindie is perfectly timed. The marketplace is primed to be an early place for gadget tinkerers to market their work in progress before launching a full Kickstarter campaign.