A recent study from Ohio State University analyzed the the state's connectivity in terms of high-speed broadband service, and found that expanding coverage to rural areas would reap positive economic benefits for the state as a whole.
This study focused on the modern issue often referred to as the "digital divide" — that is, the gap in broadband internet access between rural and urban America.
According to the study, 92 percent of Ohioans already have access to broadband connections that meet the FCC's definition of minimum broadband speeds, but more than one million residents in mostly rural areas lack access due to the prohibitive cost of expansion for multi-service operators (MSOs).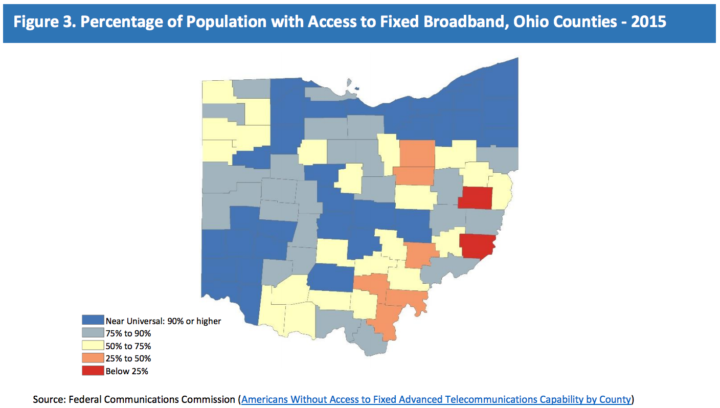 Source: Connecting the Dots of Ohio's Broadband Policy
In July 2016, the UN declared the right to internet access as a fundamental human right. This raises a poignant question regarding the responsibilities of MSOs and governments and their duties to extend access to the more remote areas of the country.
Data used in the study, pulled from the 2015 American Community Survey, indicate that, as a whole, 90 percent of Americans have access to broadband services. Moreover, 96 percent of Americans in urban areas have access to fixed broadband, while only 61 percent of the country's rural population has the same access.
These statistics have far-reaching implications for the rural parts of Ohio, as well as other communities across the Midwest. The study points to data from the Internet Innovation Alliance, that estimated that, in 2015, consumers would have been able to save over $9,000 on items ranging from groceries to health insurance by taking advantages of discounts that were only available online. Ironically, those who missed out on these savings were from lower income areas in the state, as access to broadband is directly correlated with income level.
In attempt to quantify the value of expanding access to these underserved residents, the researchers considered how much "extra" residents would be willing to pay for service in addition to what they are currently paying. Using this value, they estimated potential annual economic benefits of expanding broadband access at somewhere between about $100 and $700 million, depending on the rate of adoption in the rural areas.
The researchers conclude, "we conservatively estimate that reaching full broadband coverage today would generate between $1 billion and $2 billion in economic benefits over the next 15 years," not including supplementary benefits of such expansion, such as reduced unemployment and more competitive businesses.
Though the outlook of such research is overwhelmingly positive, it clearly is no easy task to achieve. The FCC has already established the Connect America Fund to subsidize telecommunication services in rural areas, but it has not yet been enough to incentivize providers to fully expand coverage to the most rural parts of the country.
Broadbandnow came out with a report in 2013 on the most underserved states in the US, in which Ohio ranked 6th worst with 10.67 percent of the population underserved. The report stated back then that "as of the 2013 over 39 Million Americans (12.1% of the population) only have access to 0 or 1 broadband providers, leaving these consumers without a competitive market and no alternative provider to switch to if they are dissatisfied."
Broadband expansion is a heavily infrastructure-related process, and thus, very time-consuming and expensive. With this in mind, the researchers suggest various policies for the government to consider to accelerate expansion of broadband connectivity.
Perhaps the most interesting and cost-efficient of these suggestions is the "dig once" policy. This policy, as suggested by the researchers, would speed the expansion project and drastically reduce costs by requiring private broadband providers to be notified immediately when a public road is to be excavated. This would allow the private providers to take advantage of the opportunity and install the necessary infrastructure without re-excavating existing rights of way.
This issue has proved to be a significant hurdle for rural and urban areas alike. In urban areas, residents are beginning to demand access to fiber broadband which, in many cases, would require the provider to destroy and rebuild existing infrastructure. The reality of these infrastructure difficulties is often misjudged by residents who think that the transition from cable to fiber is a simple process.
A blog post by UpRamp — a company that connects emerging tech startups with the biggest MSOs — tackles this myth, asking, "do you really want your MSO coming around and ripping up your sidewalks and driveways to lay out all that new fiber-optic cable when it would give you a modest amount of extra speed?"
Though rhetorical, the answer is likely a resounding "NO." Unfortunately, for those in rural areas, this type of excavation may be exactly what is needed to bring them into the modern digital age and bridge the digital divide.