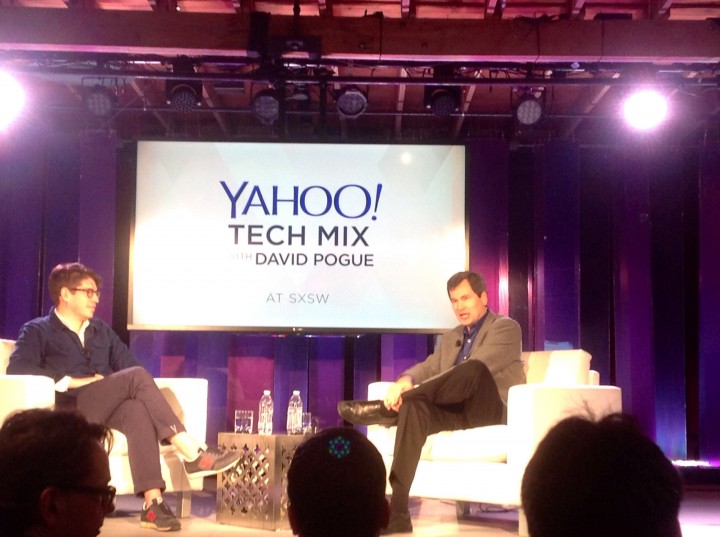 On Saturday at SXSW 2014, Yahoo journalist (and CBS news correspondent) David Pogue interviewed Yancey Strickler, cofounder of Kickstarter.
Since 2009 more than $1 Billion has been pledged through the now famous crowdfunding site and the conversation primarily focused on how the site has transformed manufacturing and product development.
The watch Pebble, which has raised over $10 million dollars to date was discussed. "This was a guy who was building watches in his garage," said Strickler, "and it's interesting how the degree of transparency has almost become a hammer to criticize the makers of new products. When Pebble raised all it's money, they scaled to 12 employees but had delays producing the watch. It's almost as though people assume Pebble was Apple and not some guys making a product from the ground up."
Strickler also spoke to Pebble's start. The founder tried to raise funding and was denied but had massive success on Kickstarter, which then attracted investors.
Pogue then posed the question, "What motivates people to contribute over $10 million dollars to a product in this way? They don't own a piece of the company."
Strickland flashed a smile and fired back, "Imagine that, not everyone is motivated by pure profit. The people that contributed to Pebble got a Pebble watch, and I think that is a beautiful thing."
Strickland went on to say that Kickstarter's all-or-nothing model of funding provides social validation of an idea. "Project backers don't have to worry what happens if they spend $20 on a project and they will lose it. The project either gets all it's funding or it doesn't, and that prevents people from losing their money."
When asked if there have ever been lawsuits, Strickland replied, "In over one billion dollars pledged, there has been one lawsuit filed against one project for forty five dollars. I think that says a lot about the success of Kickstarter."
Finally, Pogue asked Strickler when (or if) Kickstarter would sell. "What will you do when google offers you $3.2 billion?" Strickler said, "we have decided we are never going to sell. We consider Kickstarter a public trust and we want to do this forever. I have the best job in the world."