SXSW definitely has its cast of characters running around Austin this week, most of whom are soaking wet thanks to the unending rain this year.  One unique person making everyone smile as they pass is "Clarence the Homeless Hotspot" and member of HomelessHotspots.org.
Homeless Hotspots was founded by the charitable arm of advertising agency BBH New York.  As many big city residents know, there are charitable organizations for the homeless that publish free newspapers, such as Streetwise.  The print newspapers typically employ the homeless to hawk the papers on city street corners pitching passersby.  When someone takes the paper it is free and donations are accepted in any amount the person taking the paper feels is appropriate.
Here Clarence gives a basic rundown of the program (Clarence came to be homeless when Hurricane Katrina destroyed his home in New Orleans):
BBH has followed traditional newspapers migration to digital and created Homeless Hotspots.  Each worker for HH carries a 4G mobile hotspot and sells access to their wifi.  Clarence was selling his wifi access at a rate of $2 for 15 minutes of connectivity and he even offered concierge service- if you needed to be mobile with your access, Clarence will accompany you providing access (and engaging conversation) all along as you get your SXSW on.
Talking to Clarence and watching him pitch, it was easy to tell who was from a big city and who was not.  The people not from cities looked a bit worried as Clarence approached while city dwellers would stop and chat with him about the program.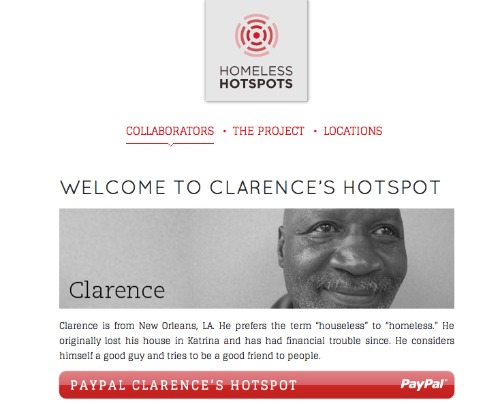 Payment for hotspot access is done through Paypal or Venmo and goes directly to the personal hotspot concierge you are purchasing hosting from.
For those who aren't in Austin this week but would like to donate directly to Clarence (or any of the Homeless Hotspot personnel), HH also allows direct contributions.
While wifi access is everywhere in Austin this week, it would be nice if we interactive geeky types took a couple minutes to send some love to Clarence.  He and his colleagues are every bit a startup entrepreneur and if anyone can appreciate how hard it is to bring a new service/product to market, its the people invading Austin for SXSW this week.
Do some good: Purchase some wifi from Clarence