When you're a serial entrepreneur like Jim Eberlin, you don't find success just by doing the same old things.  He's an innovator. And not just because of the companies that he's founded.  Now, he's even innovating his hiring process, which has been quite successful for him.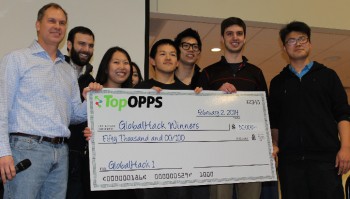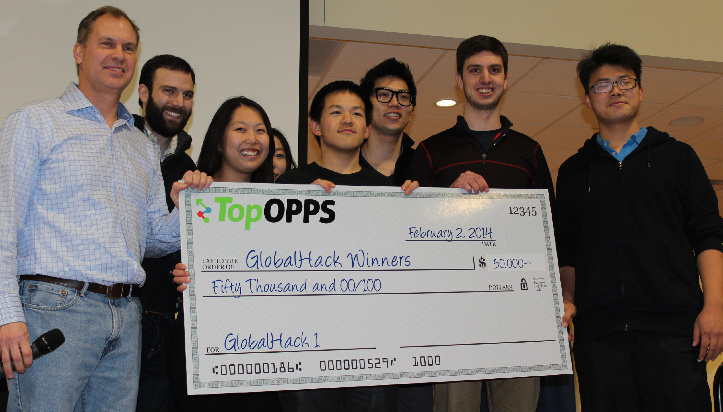 Instead of posting jobs online and waiting for responses, he took a very different approach by sponsoring GlobalHack, a hackathon that took place over Super Bowl weekend in St. Louis.  By awarding two teams a combined $60,000 in exchange for algorithms they developed, he was also given access to some of the top talent in St. Louis.
"It's great because you get to see everyone in action for one.  And, it's good overall for everything," said Eberlin on why he sponsored GlobalHack.  "It's good for TopOPPS because we got to see some real rock stars.  If you're not one, you don't want to compete in something like this. So it drew great talent.  We were after getting some really super talented, variety of people, and then, of course, trying to attract them to what we have going on."
After GlobalHack, he then invited 18 of the engineers to a private dinner and networking event.  "I call it Interviewing 3.0," Eberlin said. "I spoke to each of them for about 10 minutes and narrowed our talent search down to the people who would make the best fit for TopOPPS."  To date, he's already hired five people from the hackathon and is looking to hire at least five more right away.  With this hiring process, TopOPPS is growing fast, a feat he says he would have loved with his previous startups.
Eberlin previously founded two Silicon Valley startups that have raised a combined $90 million in venture funding, and he's well on his way to another success story with TopOPPS.  This time around he's set his sights on disrupting an industry by using advanced analytics to bring clarity and efficiency to the sales pipeline.  This results in more accurate forecasts and faster sales cycles.
"It's creating disruption and ultimately creating a new category in this market," said Eberlin.  He also went on to say that GlobalHack was a great way to get new ideas for his business and promote the tech scene happening in St. Louis.
"So, finding great talent, getting great ideas, and then just being associated with something as cool as GlobalHack," summed up Eberlin.  "And we're wanting to promote the scene here in St. Louis.  I'm getting people that contact me all over the place asking me what's going on in St. Louis in the tech scene because they're hearing more and more great things."
TopOPPS is essentially combing big data analytics with the immediate updates on sales opportunities between two teams, and it's a combined effort between his two offices in St. Louis and Silicon Valley.  "We have a very unique way to get current data that makes it easy for sales reps to give more immediate, current updates to deals that are working," explained Eberlin.  "We have our sights set on being very disruptive and the leader in this category, and that's what 's really exciting about it."
Eberlin has great contacts in Silicon Valley after his two other successful companies, which is part of why he'll have offices in both locations for TopOPPS.  But St. Louis is playing a very large role in its success.  "We're definitely going to have a presence in Silicon Valley, but we're finding most of our talent and investing here in St. Louis," explained Eberlin.  "And we're growing a successful startup this way.   Having the St. Louis and Silicon Valley footprints, we'll have a really exciting, fast growing company that does real well in our market."
But success won't happen without the right team behind him, and Eberlin is still looking for top talent to join his team.  "We're hoping that word continues to get out, and we will continue to add to our team and grow wildly," said Eberlin.  "We're expected to take over an entire floor in the T-REx building.  That's the message I want to get out and continue to attract the best in St. Louis to come talk to us."
If you want more information about joining the TopOPPS team, you can find more information and get in touch on their website or by emailing a resume to [email protected].