University of Illinois entrepreneurs Dr. Timothy Deppen and Nishana Ismail are the co-founders of Servabo, a company they co-founded dedicated to improving personal safety.
Servabo has launched a crowdfunding campaign for their new product, Shadow, on Indiegogo.  After 24 hours, the campaign has already raised just under $6,000 at the time of this writing.
The Shadow is a Bluetooth enabled panic button that works through the Shadow app to provide instant emergency notifications to your personalized network with the press of a button. These notifications are appended with your location at the time of the alert.
The Shadow Video
Servabo has been making strides outside of campus as well.  Last year at the Startup Voodoo tech conference, Servabo made it to the Final Three startups in the 'Most Promising' startup competition out of a field of several hundred entrants.
Servabo's Final Pitch for Shadow (w/Judges Questions) at Startup Voodoo
"We wanted to create a simple device that would make anyone feel safe," says Nishana Ismail, co-founder of Servabo. "I myself have felt threatened and have had many friends in unsafe situations, where making a phone call isn't possible. Having the Shadow at your fingertips you just need to push the button and a custom alert will be sent for you automatically. We want people to have peace of mind in their everyday situations."
Features of The Shadow include: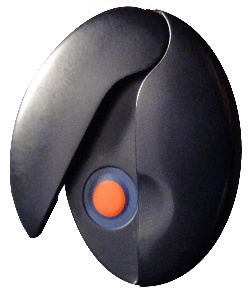 Easy-to-use Shadow App – The free Shadow App allows you set your preferences and messages for your device.
Multiple messaging triggers – You can indicate two levels of urgency, a single button press sends out low severity alerts while a press and hold triggers high severity notification.
Set custom alerts – You and your family can set custom alerts that will alert as many people as you would like through the app.
Multiple form factors – Wear it on your keychain, as a clip-on, on your wrist; The Shadow has many available accessories to make it easy for your lifestyle.
Tactile indicator – Has a vibrating motor to provide feedback when an alert is sent.
Location alerts – Using your phone's GPS, Shadow sends your location whenever you trigger an alert.
Supports Non-Profits as well
Servabo supports non-profit organizations that promote safety and security for the community and will be partnering with YWCA Evanston, the Ella Mae Foundation (started by Beverly Gooden) and RAINN as charity partners during the campaign.
The Shadow App will be compatible with Android 4.3, iOS 5, and later versions of these operating systems and will be compatible with any smartphone that is Bluetooth smart ready.