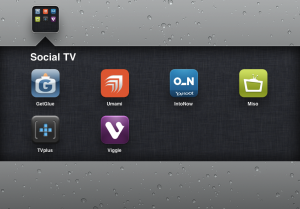 Social TV applications seem to have the entire media world atwitter right now (pun intended).  From Miso striking a partnership with DirecTV, Yahoo! acquiring IntoNow, and GetGlue securing a recent $12 million in funding led by Rho Ventures, it's clear there's big money to be made in the business of what Dick Costolo, CEO of Twitter, called "saving live TV."
While Costolo may be a little premature (US consumers still watch an average of 32.47 hours of live TV a week), cashing in on Social TV's ability to make appointment viewing cool again is a no brainer.  Afterall, TV still holds the lion's share of advertising dollars spent in this country, totalling an estimated $70 billion dollars last year alone.
So how does it work?  It's quite simple, really.  Build an application (smartphone, tablet, connected TV, or desktop) that syncs to a show or live event through either automatic content recognition (known as ACR, the technology used by Shazam) or manual check-in.  Integrate the "usual suspects" of social networking to allow sharing and access to real-time conversation (which, of course, becomes free marketing for your app).  Create, or link to, additional content around those programs.  Sell advertising.  Profit.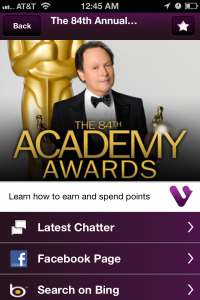 Alright, I realize it's not as easy as all that, but every Social TV application on the market today is simply an iteration of that business model…and I applaud them all.  There's something oddly satisfying by the fact that Social TV startups like Umami, TVPlus, Viggle, and others can go out and sell sponsorships around the most elaborate events on TV today (Super Bowl, Grammy's, Oscars, etc.) without bearing any of the production costs.  In all reality though, as long as they continue to drive overall live viewership of these shows, everyone's happy: the networks selling commercials by total rating points, the users who benefit from a robust second-screen experience, and the startups who are changing fundamentally changing how we "watch TV."
Who knows what the future holds for each one of these companies.  I'm sure a shakeup will occur at some point and many will fade into obscurity, some will white-label their technology, and others will more than likely be acquired.  In the meantime, if I could offer some words of advice, I would suggest taking a hard look at your competition and reciting a line directly from the theme song of Jason Calacanis's  "This Week in Startups" podcast: "…we ain't gonna live like equals, 'til we get the money, spend the money, and defeat you."