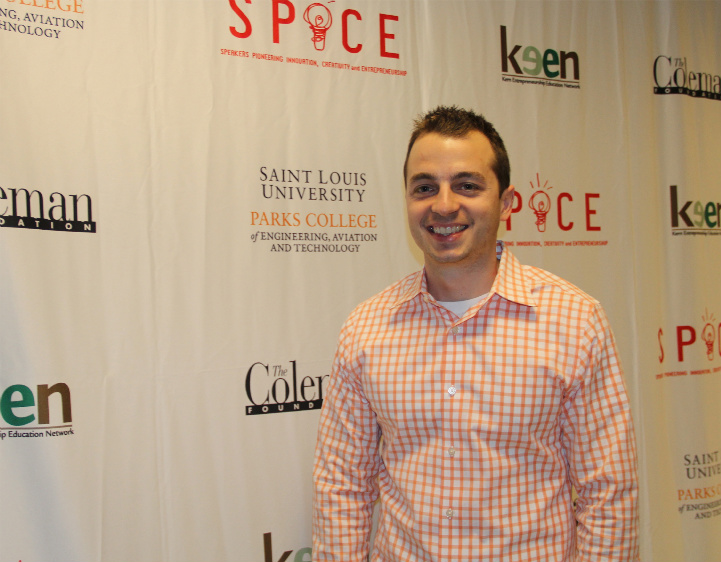 President of goBrandgo! and Saint Louis University alum, Derek Weber, was the guest speaker for the SPICE (Speakers Pioneering Innovation, Creativity and Entrepreneurship) series February 12, 2014.
Weber gave an interactive presentation by sharing his journey into the startup world, discussing his "idea vortex" and his new service to young entrepreneurs, go!-celerator.
"One thing in particular that stood out to me was how to share ideas," said Parks College of Engineering, Aviation and Technology student and iScholar Tristan Thomas. "You can't expect your idea to blossom into something better if you keep it in the dark. You must share your idea with other people to gain new perspectives and then reflect on those thoughts to gain more insight."
Over the last decade, Weber has transformed his college t-shirt business into goBRANDgo!, one of the nation's leading strategic branding and marketing firms for entrepreneurs. Weber lives his go!-Statement, "To Inspire and Influence Positive Change" by sharing his story and lessons learned with entrepreneurs across the country in hopes he can make their journey just a bit easier and even more impactful.
For more information on goBrandgo!, visit goBrandgo
SPICE, sponsored by KEEN and the Coleman Foundation, is a free ongoing speaker event to enhance the flavor of engineering education by bringing technology visionaries into direct contact with students and practitioners.
KEEN (Kern Entrepreneurship Education Network) is a collaboration of 19 universities around the U.S. that strive to instill an entrepreneurial mindset in undergraduate engineering students.
The Coleman Foundation is a private, independent grant maker focusing primarily on the Midwest. Foundation resources support education – with a strong emphasis on entrepreneurship.
For more information, visit the SPICE site