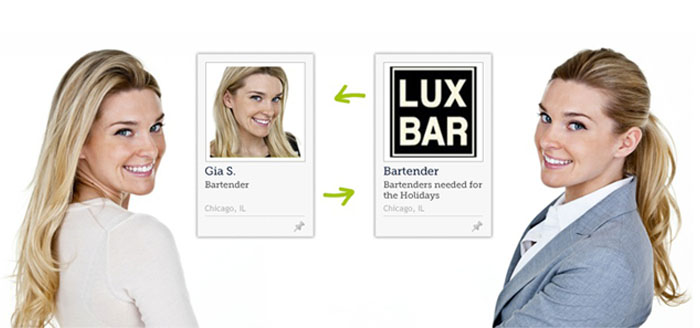 This week Shiftgig, headquartered at the Catapult coworking space in Chicago's River North community, announced that it has just closed a series A round of funding. The latest round, whose investors included I2A Fund, Firestarter Fund, and Red Barn Investments, came in at an impressive $3 million.
Self-described as LinkedIn for the service industry, Shiftgig enables gig seekers to display both their professional experience and personality through a streamlined profile. Members can search and apply to gigs that match their experience through the website, and employers can, in turn, find the right person for any open positions they might have. The service is tailored to food service positions like bartenders, cooks, and servers.
Since its launch earlier this year, Shiftgig has surpassed 100,000 users and made its way to job markets in Los Angeles, New York, Miami, Washington D.C., and beyond. Former Groupon CTO Ken Pelletier will join the Shiftgig team as a technical advisor following the latest investment round. Pelletier said he plans to help the team manage its latest surge of user growth.
According to the company, the newly-acquired funds will go toward hiring additional staff, implementing new features, and bringing the gig finding service to new cities across the country.
"We are looking forward to entering the next phase of our company's growth," said Shiftgig CEO Eddie Lou. "Enabling businesses and job candidates to connect in a meaningful way has enabled Shiftgig to take a leadership position in how the service industry manages employment."
Shiftgig's swift growth is no doubt due in large part to its dedicated team of developers who work around the clock building and updating features for the website. In July Shiftgig co-founder and CTO Sean Casey told Techli that the team launched the first version of Shiftgig after only two months of development, and has been hard at work implementing an endless list of new features ever since.
Swing by the Shiftgig website to learn more about how the growing network is helping job seekers land the right gig.