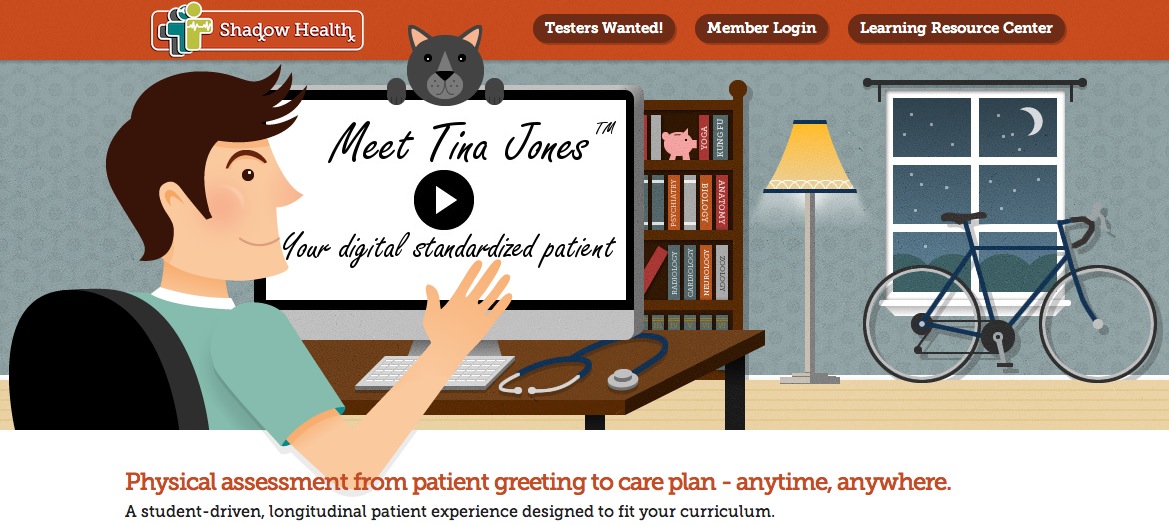 After raising more than $1 million in funding, a Gainesville, Florida educational startup has moved on from the University of Florida's Innovation Hub this week into a new 6,000 square-foot office in the downtown area. Shadow Health Inc. has developed an interactive learning platform for medical students to sharpen their one-on-one diagnosis skills with a virtual patient in a doctor's office setting.
"There are better ways to prepare students to communicate with and examine patients," said Shadow Health CEO David Massias. "We provide a clinical tool that students can use and experience prior to being in front of a real patient."
Tina Jones, the company's flagship product, has already been selling to nursing schools as a practical supplement to educational courses. The software runs on most popular web browsers and features a single patient (Ms. Jones). Despite having only one case, the exercise contains a wealth of detail and information that will require students to take multiple passes to fully explore. In the virtual training software, Tina Jones is a 3D-rendered character whose critical anatomical systems have been built in detail. This level of detail allows students to use a variety of virtual medical tools to closely examine Jones and accurately diagnose her issue.

On top of being anatomically detailed, Jones is fully-voice and has a thoroughly imagined medical history. According to the Shadow Health website, Jones has more than eight red flags and 65 critical items to uncover through virtual patient interaction. Tina has over 2,000 lines of dialogue that can be triggered by more than 20,000 different questions input dynamically by medical students.
In addition to providing students with hours of patient interaction and diagnosis practice, it also allows teachers to give feedback on each student's progress. The Tina Jones simulation will keep track of the patient-student transcript, and display case notes by medical professionals from which students can improve their diagnosing skills.
Check out the video below to watch a demo showcasing the Tina Jones simulation and its various features:
Shadow Health launched in 2010 and began its time at the University of Florida's Innovation Hub in October of last year. Though the Tina Jones program is currently used largely by nursing school students, the CEO hopes to soon begin marketing the software to the med school community at large. Depending on the software's growth in the greater med school market, Massias predicts that the company will begin expanding again in around a year's time.
To find out more about Tina Jones, or even sign up to be a tester for current and upcoming modules, head over to the Shadow Health website.