Search-engine optimization (SEO) experts shared tips and technicalities Tuesday evening with a diverse crowd of entrepreneurs at Entrepreneurs Unpluggd at the Chopin Theater in Chicago.
Though there was a vast range of tips, there were a few points that resonated amongst the three speakers.
(1) Google matters
(2) Content matters
(3) Socialization matters
"Free traffic is like an asset," said Dan Olson, one of the SEO experts. The point of SEO is not only to get free traffic to your site, but also to "optimize that traffic into revenue," he said.
Jack Berdan, an entrepreneur that attended the event, said he already knew that good content yields greater search engine optimization. "It's about providing a good product," he said. "That's what's beautiful about Google. It's a very free market and they reward good content."
The SEO experts exhibited how to use search engines better to bring more free traffic to your site, and ultimately, how to market your product in better ways
The three speakers taught the audience not only how to create content to draw greater visibility, but also how to get content shared throughout social networks and the greater worldwide web.
—————————–
Rod Holmes, Partner at Chicago Style SEO
Holmes centered his speech on the importance of keywords in your content, and adding them wherever possible. Surprisingly, keywords are deeply correlated to sales.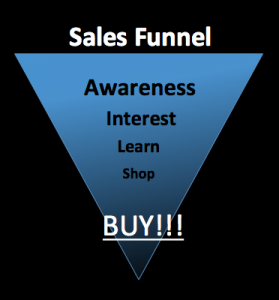 In sales, there is a buying funnel, "the process that people go through when deciding to buy something," Holmes said. "It's called a funnel because a lot of people drop off in the process."
"As you go further, fewer and fewer people continue."
Holmes said that search keywords are analogous to this funnel. Head keywords are the vague keywords that many people search for, while long-tail keywords are longer, more specific keywords that have far less search value.
But smaller companies may be more successful in using these long-tail keywords.
For example, "coffee" is a head keyword, but "pour over coffee in Wicker Park" is a long-tail keyword. If you're a small coffee shop in Wicker Park, you are more likely to compete with the more specific search terms. Otherwise, you'll be just another small company competing with Starbucks.
By being specific, you are catching the people toward the middle or bottom of your buying funnel – the people that know more clearly what they want.
"Know what your goal is," Holmes said. Find out what long-term keywords will drive your traffic. Many people at the companies he works with said these keywords have driven 40-50 percent of their traffic.
Also, know the top six places to keep your keywords: in your immediate domain name, in the tail to your domain name, in the title tag, the header, the body and the images to your site (in both the file name and the alt-text when posting).
"SEO is a lot like building a brick wall," he said, adding that "there's no silver bullet" to making your site search engine optimized or gaining many viewers to your site.
"You have to keep doing all these small things over and over," he said.
Dan Olson, CEO at UpCity
Olsen spoke on  the role of content and social media in SEO.
There are a few SEO requirements that remain important that have been around for a while:  keyword selection, on-site SEO and "crawlability" (when search engines crawls through your website to examine your content), authority and link-building, or getting others to share and link to your website.
Authority was amongst the most important aspects of SEO, Olson said, meaning that if a search engine recognizes you as an authority of a subject, it is more likely to place you higher up for the specific search.
He also said link-building was tied to authority. "How do you get people to love you so much that they link to your site?" he asked, answering that creating value for their customers as well as creating "a damn good product" will keep people coming back.
But Olson said there are a few SEO requirements that are also quite new, adding that search engines now value deep, valuable content, SEO and "social relativity," reputation management.
Reputation management is a relatively new phenomenon as search engines place less emphasis on companies and sites with bad reviews. "If people hate you, they review you badly. It's bad for your SEO," Olson said.
Thus, content is key, as is creating value. He gave tips to help entrepreneurs do so, including to start blogging your story and knowledge, and make everything sharable, especially on "the big four" – Facebook, Twitter, LinkedIn and Google Plus.
He also recommended to create how-to posts, weekly round-ups, tools, blogs, FAQs, references and resources for your users to enjoy.
He recommended to create content for others by guest blogging to get more visibility and link back to your site.
The more people share and click on your site, the more they are putting their social stamp of approval on it, further making you an "authority" in your field. "Twitter is our third largest referencer," he said, showing that the value of social approval is not just good for SEO, but for your business.

Brent D. Payne, CEO of Loud Interactive
Payne said SEO takes a lot of time, not just because of the amount of work it requires, but because it takes a while for Google to take and process any new data.
For all new content, it depends on who you are for how fast your content will show up.
For example, the Tribune Company will have their new content show up in a matter of minutes, while WGN would show up in a matter of hours. A smaller company could take approximately a month to have new content process in a search.
A deep understanding of SEO and content management helped Payne more than triple Tribune Company's viewers per day in three years.
"Work with Google to find out what they believe your website is about," Payne said. "Take a look at the keywords and build off of it."
Google's Webmaster Tools are very powerful to help get a sense of this, he said, adding that your content, your keywords, and the appearance of your link need to be more clickable and "more interesting to human beings" without being irrelevant to your topic.
He recommended tools such as schema.org to help create more clickable links.
He also said to pay attention to your competitors and how they draw SEO in similar and different ways. OpenSiteExplorer.org helps give link analyses, and is free for the first three searches.
"You guys as entrepreneurs have a lot of opportunity to get authoritative links without having to do a lot," he said, recognizing that entrepreneurs are experts in their own field, and are able to incorporate not only specificity into keywords and content, but to take advantage of your locality.
"You want to get links from local areas," he said, advising entrepreneurs to seek links from public relations, interviews, webinars, bloggers, vendors and clients.
He re-emphasized to keep content valuable, and not to thin, or blockers such as "Google Panda" will keep your site from gaining greater credibility.
—————————–
As Holmes said, SEO is like "building a brick wall," and from what the experts presented, there are many things you can do to bring your website more traffic by being an expert in your field.
Holmes said having one set of keywords isn't enough. Make a list of keywords that resonate with your company – a set of knowledge that you wish to communicate.
Then find ways to build your site around these words in many small ways, but not ways that are overly obvious. Make content that is meaningful and adds value to your users, and your audience is far more likely to share it and invest in what you have to offer.