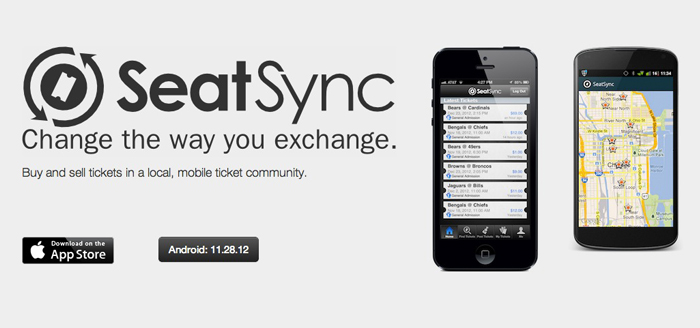 This past week Chicago startup SeatSync debuted a new app for mobile devices that empowers sports and music fans to connect with local ticket sellers while avoid the hidden fees of other similar services. With the launch of its brand new app, SeatSync is looking to take a healthy bite of the second-hand ticket selling market.
SeatSync was co-founded by Michael Wilson, Mark Lenz, Graham Thornton, and John Haugen, who came up with the idea for a mobile peer-to-peer ticket selling platform when searching out tickets for a Notre Dame game. The process of digging through Craigslist posts, finding a reasonable price, and avoiding the additional fees of websites like Stubhub drove them to creating a solution of their own.
"We're all big sports and music fans," said Thornton. "There had to be a better way to connect actual fans who just want to sell tickets to people who are going to enjoy them without tacking on additional service fees and marking up the price."
The team spent the next year building the transparent, fan-focused mobile app, which hit the iOS market on the 14th of this month. Thornton said the company's first priority is to focus on second-hand ticket sales in Chicago's busy sports and music scene, and eventually open the platform to ticket sales across the country.
"Chicago is where we grew up and met, where most of us call home," said Thornton. "We're launching nationwide, but I think there's a lot of opportunity in the Chicago market to validate our concept and make sure that SeatSync is ready."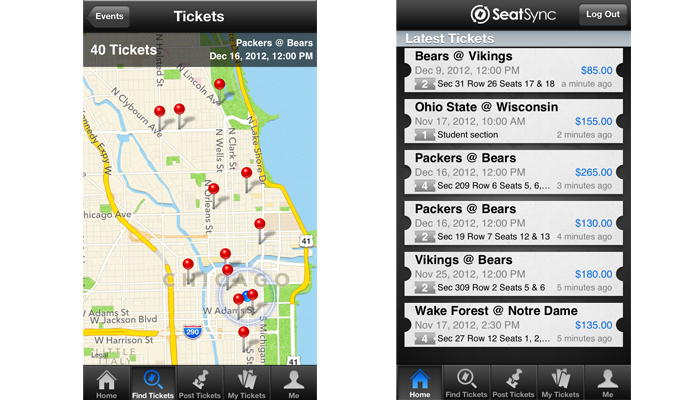 Thornton said that at just a week in the service is already seeing users posting and selling their tickets. In the future SeatSync will offer credit card processing within the mobile app, which will charge the seller a small flat rate of a few dollars. Beyond the small fee on transactions processed by the company, SeatSync plans to stick to its goal of being the most transparent and user-friendly ticket selling platform around. "Our end goal is to keep the fees as low as possible," said Thornton.
Ultimately the co-founder believes that SeatSync will become an integral social component for sports fans and concert goers, and ideally bring down some of the more outrageous ticket prices in the second-hand market. "Our hope is that people who are not happy with the status quo will see that there's an alternative network for selling their tickets to other fans," Thornton said.
SeatSync is set to make its debut on Android by the end of the month, and to celebrate this month's achievements the startup will be hosting an informal launch party at English Bar in downtown Chicago on November 30th. All SeatSync fans are invited to join the event, featuring giveaways and a raffle for Chicago Bulls tickets. Check out SeatSync.com to download the new app, or see the event page to find out more about the upcoming launch party.