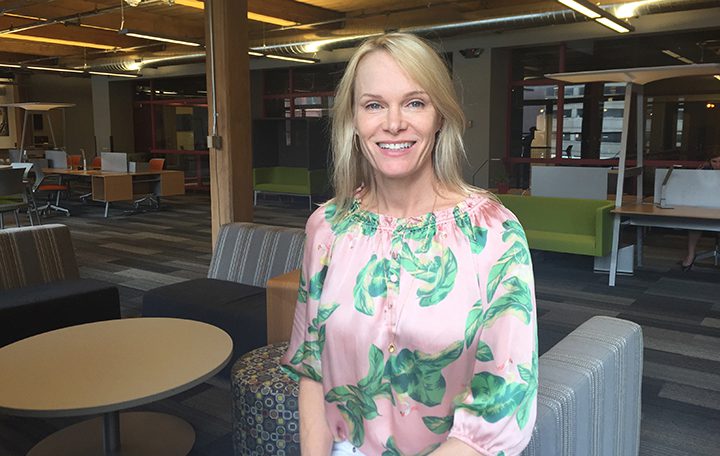 Agnes Scoville, CEO of Scoville & Co.
One of the problems any new parent has had to face is getting their infant to take their medicine. For ER doctor and parent Agnes Scoville, this was a situation she was confronted with frequently. "Most of the time what the issue is, is that whatever is going into the infant's mouth doesn't taste good or feel good," Scoville explained. "Currently caregivers put medicine into a syringe and squirt it into a baby's mouth, but the medicine more often than not just gets spit out." Rather than hold down a screaming infant, Scoville went out and created a different method of giving medicine to babies. This lead to the founding of Scoville and Co. and its first product Pacidose.
The Pacidose is a modified version of the original method of giving children oral medicine, however instead of just a plain syringe, Scoville has added a soft pacifier to the tip to make it more appealing for infants to latch on to. The pacifier also is designed in such a way as to have the medicine be delivered to the back of the baby's throat so the baby will have a harder time tasting it. This way the baby can take the medicine in a much more pleasant manner.
Scoville got the idea for the product when administering medicine to her own daughter. After designing the product Scoville was struck with the idea to start a company to create health products for infants and young children. in 2014 she founded Scoville & Co. and has since been working towards developing new products and marketing them.
This June Scoville became one of the Arch Grants cohorts, receiving $50,000 to continue expanding her business."It's very encouraging," said Scoville. "Part of Scoville and Company's appeal I would say is that while a lot of other startups now are focused on tech developments, we manufacture physical products. I think that is part of why Arch Grants chose us this year."
While adding a pacifier to a syringe may seem like a minor change, it is one that has helped a good many people. Infants with chronic pain or illnesses often have a very hard time taking their medicine, and the Pacidose has made it easier for parents who are nursing very ill babies. "We have so many tools in the hospital." Scoville explained, "But our focus is taking these tools and bringing them into the home to save parents a trip to the ER with their baby."
Scoville is currently working on developing new products to help nurse infants at home, including a new sensor designed for infants. Pacidose is currently on the market.

Check out a short interview with Agnes Scoville.