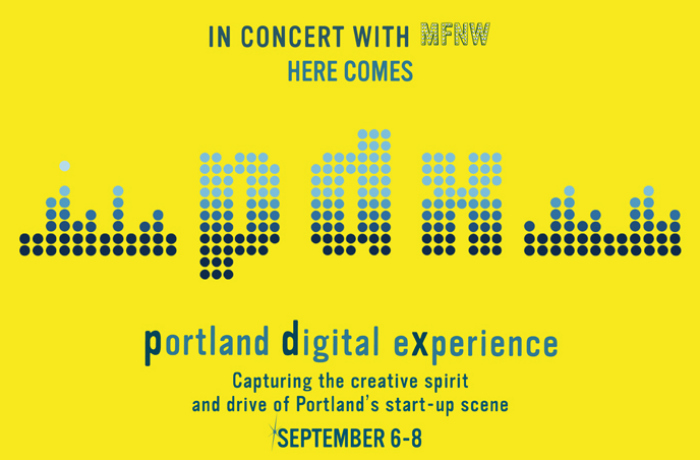 This year will mark the first year that the popular Portland music festival MusicfestNW will include a celebration of technology akin to SXSW. Portland Digital eXperience events will include panels and keynote talks by some of the most successful and creative thought leaders in the Portland, Oregon startup scene.
The Portland Digital eXperience events will take place over four days from Wednesday September 5 to Saturday September 8. Although the tech talks will take place during MusicfestNW, the digital events will wrap up just in time for attendees who have purchased the combined general admission ticket for $225 to rock out into the night.
Don't party too hard though, because the speakers that Portland Digital eXperience organizer Rick Turoczy has lined up for attendees are worth crawling out of bed at a reasonable hour for. Plus, Portland has an abundance of outstanding coffeeshops, so it won't be difficult to power up on caffeine the morning after a late night out. Among the impressive lineup of speakers, the following events are a can't miss:
Keynote by Aaron Draplin of Draplin Design Co
Draplin is the creator of Field Notes, a popular minimalist vintage notebook that can be seen sticking out of the back pockets of most Portland creative professionals in the wild. Draplin's unique spin on the relationship between historical artifacts and contemporary graphic design will inform and inspire people who create the web. Check out his Creative Mornings talk:
Portland/CreativeMornings – Aaron James Draplin from CreativeMornings/Portland on Vimeo.
Delighting your customers with technology
Join Evan Doll, co-founder at Flipboard and former Apple iPhone engineer, and James Keller, mobile interaction designer and co-founder of mobile agency Small Society, which recently was acquired by Walmart Labs. Together, they will discuss how apps like Flipboard, ZipCar, Starbucks, Jive, and Walmart are creating meaningful experiences beyond utility for users.
PDX Startup crawl
Check out the offices of Portland startups like Puppet Labs, Urban Airship, Chirpify, Geoloqi, ShopIgniter, and more. Before the crawl, there will be a 30 minute kick-off talk that will include startup founders discussing the role of the Portland in the founding and growth of their companies. Speakers include CEO and founder of Cloudability Mat Ellis, Geoloqi co-founder Amber Case, and Vizify co-founder and CEO Todd Silverstein to name a few.
Niche talks will include subjects like independent music, healthcare, and animation.
CNN is already heralding the event as "the next SXSW", which has the Portland startup scene buzzing with pride. If you can't make it this year, mark your calendars for 2013. Portland Digital eXperience is sure to become the late summer can't miss event for years to come.