Think you need Photoshop to add a bit of flare to your images? Guess again. Piqtur brings powerful image effects directly to your web browser. Coded by German Elias Klughammer, Piqtur is an application that seeks to explore the possibilities that browser based applications can offer. With Piqtur, it's a breeze to add a shadow, reflection, corners, or a border to your photo. The best part? You never have to leave the window of your favorite web browser.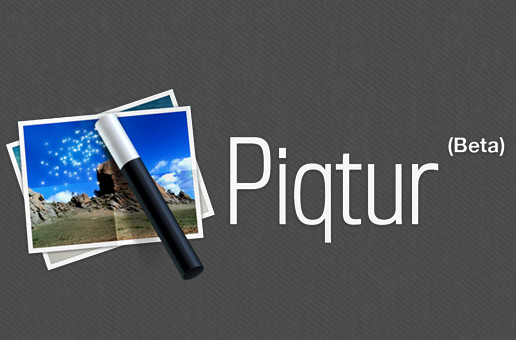 Images larger than 1000 pixels on the long size are automatically downsized when imported into Piqtur. One reason that Piqtur could find a place in this writer's toolbox is the ability to downsize photos when exporting. The app allows you to select a size for the long edge of the photo to be resized to. This feature is indispensable for bloggers who may need quick effects applied to spice up images. Piqtur's interface is definitely designed to feel more an application than a website.
Piqtur's impressive interface makes the user feel as if they are using an application rather than a browser based tool. Klughammer tells me that the site is coded using Cappucino for the frontend of the application, while the backend of the application is powered by node.js. Node, built on Google's v8 Javascript library, is a powerful Javascript language for building web applications and powers well-known sites like GitHub, Klout, and LinkedIn.
The coder tells me that the main inspiration was the Mac desktop based tool Pictueresque.  The application is essentially a web based clone that carries the same image enhancing magic. Piqtur is currently a free tool, and the only big feature missing from Picturesque is the ability to batch process images. Interestingly enough, all of the image editing effects are actually rendered by the desktop computer, save for the 3D perspective effect. This client-side image processing helps to reduce server load and keep the application scalable.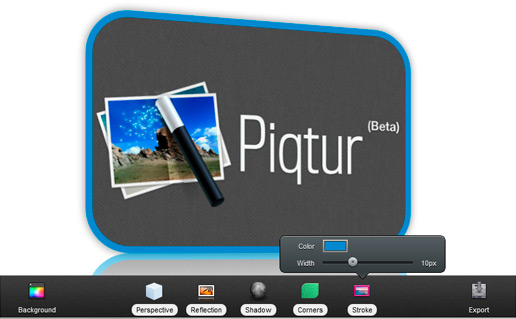 With Piqtur, you can add five effects, as well as a background color. Exporting is kept simple and allows the image to be scaled down.
When asked about why he coded Piqtur, Klughammer told me that he feels "Web apps could achieve way more these days. I wanted to find out what's possible."   He calls Piqtur an experiment and currently isn't interested in monetizing the service. When asked about any plans for the project, he told me that additional functionality hasn't been ruled out for future versions.