How often do you feel that if the retail price for an item were only a few dollars less, you'd be all over it? Pegwise, launched in April by

co-founders Jarred Trost and Andy Powell, is an online marketplace that connects a customer's perceived value of the product to the price they pay.
Running multi-unit flash auctions (they coined and trademarked the phrase, I asked), Pegwise offers consumers the opportunity to consider the product offered and bid a price that seems reasonable to them, rather than a flat fee. For example, today's auction is for tickets to a boxing event at UIC Pavilion, by moving the slider on the price scale (for this one in particular the min/max is $10-$31), I can peg the price that seems best to me. The top bidder of each auction also gets a bonus gift from Pegwise — for the boxing event it's a $10 gift card from Amazon. Trost tells me, "We've had people get on there and bid the full price, just to get the bonus gift!"
Like eBay, items have a reserve price that must be met to win the auction, though in this case they are kept secret. Unlike eBay, this "secret" reserve means that potential customers don't have to babysit their bid, on the lookout for auction thieves who jump in to bid a penny more than you in the last nanosecond of the bidding process. Also unlike eBay — there are no bidding details from other participants, so there is no sense of cutthroat competition to the auctions. Just bid, and relax.
Do not confuse this with a daily deals site either. Not only do auctions run longer than 24-hours, but also "most of our products are something you'd never find in a daily deal." The products come from retailers looking to find new sales channels, companies that sell small and medium sized products that one wouldn't find in Macy's or Target. According to a customer survey the team completed in April, many of the retailers were turned off by the site's original daily deals feel and appearance.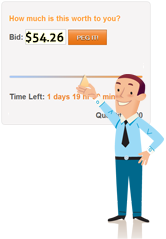 When asked about that, Trost tells me, "at the end of the day, these retailers just want a comfortable marketplace to sell in and they don't want to de-value high-end products." Which is another reason they keep the reserve price on the down-low. "When people see a massage on Groupon for $30, they start associating that price with massages and don't want to pay the full price anymore," said Trost. By pegging their own prices, consumers at Pegwise are able to decide for themselves how much a product is worth.
Though currently still in Beta, the analytics show that this sales method is on average saving customers 30% off the retail price of an item, yet retailers are still achieving prices, on average, of 20% above the reserve price. It is a win for everyone. To date, there have been 600 bids and no complaints and the user base is growing by about 10% each week, according to Trost. In addition, the innovative auction platform they've created is so simple and effective, Trost and Powell have a patent pending on it.
Pegwise is self-sustaining through taking a 15% cut of each winning bid, something retailers generally consider when setting the reserve price.  However, since their expanding staff and business have already outgrown their office on North State Street they have been talking to some angel investors who have shown interest in their concept.
Currently employing six full-timers and one part-time blogger, Pegwise's growth has been "all organic, by word-of-mouth through our social circles," said Trost. Aside from Trost and Powell, the sales team consists of Alexandra, and (not kidding) Casey, KC and Case. In a bit of crazy happenstance, Casey/KC/Case all attended the same university for undergrad, but were hired independently of one another. For more humor courtesy of Pegwise — check out the hilarious sales calls that end up in their Twitter feed @Pegwise or check them out on Facebook. For consumer empowerment courtesy of Pegwise, go peg your price.