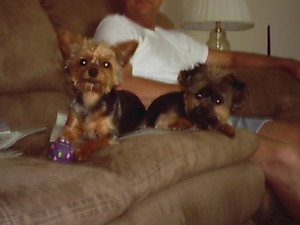 There's only one thing that would have made my two and a half year tenure in Chicago better: my very own (wo)man's best friend. But alas the 45 minute bus rides and lack of desire to get out of bed at 5 a.m. for negative 30 degree potty trips prevented me from adopting from the local shelters.
A website essential for dog owners across the country: an account with Chicago-based doggyloot. Launched in February 2011 to help dog owners and lovers find great deals for their favorite furry friends, founders Millie Tadewaldt, Nicholas Rosa, and Ryan Schoop created doggyloot to offer local and national specials.
Recent deals include $17 collars with the logo of your favorite college sports teams (typically at $35), 100 percent organic chew toys, and a seatbelt for the pup on the go. Even better, Schoop, CEO and Founder said doggyloot is interested in offering more charitable deals like the one donating $10 to the Joplin, MO Humane Society that raised just under $7,000 after the town was devastated by a tornado three weeks ago.
Schoop said deals are primarily offered through national "online retailers and manufacturers that can ship directly to customers." Some local offers in Chicago have been offered and have done well, and the company hopes to expand local offers to other major cities, said Schoop. doggyloot also looks to expand its national offerings by running a full week's worth of deals as opposed to the two to three per week offered currently, said Schoop.
With previous experience at DashMob, "a real-time, location-based deal service, similar to what Groupon Now provides today," the three founders saw a way to narrow down deal sites to cater to smaller niche groups.
"As a team with an affinity for dogs and armed with the knowledge that there is one dog for every four people in America and that the average dog owner spends more than $1,000 a year on their dog, we saw a great need for a dog related daily deal site," said Schoop.
Currently funded by the Sandbox Industries incubator, Schoop said the company will look  to "graduate" and be funded through the Sandbox Venture fund soon.
"doggyloot is a great example of Sandbox Industries incubation process at work.  We went from concept to launch and revenue in less than 2 months, largely due to our founders' commitment to making this happen, but also because of the excellent structure and support that come from being a part of the incubator at Sandbox," said Tadewaldt.
"As a part of the Sandbox incubator, doggyloot had instant "seed funding", office space, equipment, mentors, and access to resources in strategy, business development, graphic design, development, social media, legal and accounting.  doggyloot was able to tap into a tested process for ideation and launch that took a lot of the guesswork and tediousness out of tasks that can slow down independent entrepreneurs," said Tadewaldt.
Now that's definitely something to bark at.
Pictured above are the author's two yorkies: Zoe Belle (left) and Lexi Pooh Bear (right) who unfortunately did not get to experience Chicago from their couch in Quincy, IL.