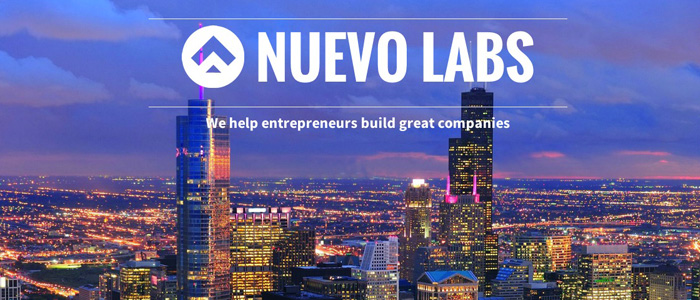 Nuevo Labs, a new startup accelerator focused on multicultural markets, is about to begin accepting applications for its very first class in January of next year. The 1871-based program will run startups through a three month program to get them ready to take on untapped markets beginning in the summer.
The new startup accelerator was started by Juan Hernandez, Dan Salcedo, Patricia Martinez, and Josh Hernandez, who came up with the idea for a globally focused program over a round of beers in the spring.
"We all had our entrepreneur hats on," said Juan Hernandez, Nuevo Labs' program director ."There was a gap that we saw: there's a market that's not being served all the way. How can we jump on this opportunity?"
A Chicago native and trained software engineer, Hernandez left 12 years of work in software consulting to pursue his entrepreneurial career three years ago. "I would say I wasn't plugged in until 1871 came about," said Hernandez. "Holy cow, talk about jumping in feet first. When I started here I would try to sit at a new table every day to meet new people."
Hernandez has spent the last 9 months running the idea for a global-focused program through the Chicago startup ecosystem, seeking advice from a wealth of key figures, including Kevin Willer of the Chicagoland Entrepreneurial Council. The team decided that a startup accelerator would be the most feasible option to bring in the kind of global perspective they saw driving innovation in the tech world today.
"The feedback that we got is that all the pieces are there in Chicago. Having a place like 1871 at hand made it all that much easier," said Hernandez, adding that many days the founding members never leave the city's biggest startup incubator.
The team has been working over most of the past year interviewing startup teams from around the country to make sure they're building the right program for the market. Hernandez said the new venture will be primarily entrepreneur-led in the beginning, and although it is focused on multicultural markets, startup teams of all backgrounds are invited to apply.
"We believe that the stronger teams will have diverse makeup," said Hernandez. "Some of the best teams I've met here have guys that I thought would not make a good startup team. The very unique backgrounds that people have here are very interesting."
Dan Salcedo, who is a founding member of Mobcart, highlighted just one example of a currently untapped opportunity that lies in the latino mobile market, whose smartphones are often the only route of internet access available to them. "These markets are dramatically underserved, incredibly profitable, and have very low debt levels," Salcedo said.
According to Hernandez, these kind of untapped markets are where they want to begin their focus, eventually crossing graduates of Nuevo Labs over into widespread appeal. "We want to get it right here and scale it up huge," said Hernandez.
Startups will be able to submit their applications to the Nuevo Labs program beginning next month. Hernandez said the first class will feature ten startup teams, who will each be eligible to receive up to $25,000 in seed funding over the three month program at 1871.
"Our background makes us far more global thinking," concluded Salcedo. "That hasn't yet been part of the mix in the tech world as much. It's going to be a great opportunity for people to celebrate."
Stay tuned for Nuevo Labs' press event in early January, when the company will reveal more details about 1871's newest startup accelerator.