TrakBill, a St. Louis startup that is building an online legislative monitoring platform, unveiled its brand new iOS app yesterday.  This launch comes on the heels of winning an Arch Grant just last week and presenting at Capital Innovators Demo Day the week before that. To say that it's been a whirlwind of activity for this startup would be an understatement.
"Well, it's been crazy busy. Things are going great, and we're just continuing to handle all of it and keep up with everything from balancing PR with running the business and doing sales and marketing," said Steven Marciniak, founder of TrakBill.  "We're hiring two people who will be starting in the next couple of weeks and trying to ramp up sales and marketing to really expand our reach to all 50 states and the federal government by the end of the year."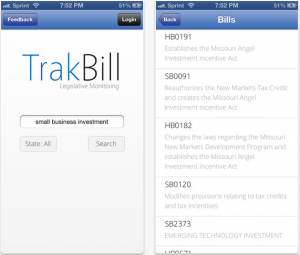 The mobile app, available now in the App Store for both the iPad and iPhone, has nearly all the functionality of the current web platform.  You can track bills, search different keywords, share on social media, view the schedule of bills being heard in committee, and much more.  Plus, you can receive real-time notifications on new actions to keep informed.
"Just about every functionality [online] we have been able to replicate on the app because of how we've structured things," said Marciniak.  "It's really about making things as simple as possible." The only functionality that isn't available quite yet is adding and removing keywords within the app, however, Marciniak says that will be added soon.
Of course, the launch of the mobile app is just a small part of what TrakBill has been working on.  Come the end of June, users will see even more exciting developments from this St. Louis-based startup.
"The end of June, when we release the federal government bill tracking, we'll have completely revamped the database and user interface," said Mariciniak.  "So a lot will be changing.  We'll be incorporating different feedback we've been receiving really since we've started. We've been able to figure out what most people need, and all of those revisions will be coming with the new launch the end of June.  That's our big day as it will be a big step for TrakBill, allowing us to offer even more value to our users."
The end of June is just a little over a month away, and when I pointed this out, Marciniak just laughed.  "We've been planning it for awhile, so it's not a shock," he said.  "We're spending a lot of time making sure everything will be in place by that point. Deadlines are part of being a startup, it's what we get excited about, and it's going to be great."
With Marciniak and his team on a clear path, the Arch Grant couldn't have come at a better time, and it also means they'll be staying in St. Louis.  "We look forward to establishing TrakBill in St. Louis. The funding is going to allow us to accelerate our growth here and bring on another developer," said Marciniak.  "Outside of the money and services and everything else, [an Arch Grant] is something that is an honor to receive. Just being part of the St. Louis startup culture up until this point, we knew we wanted to stay, and the Arch Grant has made that possible. It's really been a huge help being part of this community because everyone is so supportive."
Calm under pressure, TrakBill is one exciting startup to watch.  What do you think? Does this startup have what it takes? Only time will tell, but they're certainly off to a great start.  For more on how this platform works, here's a look at their demo video:
http://youtu.be/N-KG_nrvjK8