Eagan Minnesota-based Ergotron is looking to bring a more ergonomic solution to the traditional classroom with the launch of a height-adjustable standing desk.
The LearnFit SE Sit-Stand Desk will be available for sale through global distribution partners in March 2018.
To date, Ergotron has granted hundreds of LearnFit desks to schools through these organizations, the most recent recipients include students at Lithia Springs Elementary School in Tampa, FL; Smyth Elementary School in Chicago, IL; and Ramsey Middle School in Minneapolis, MN.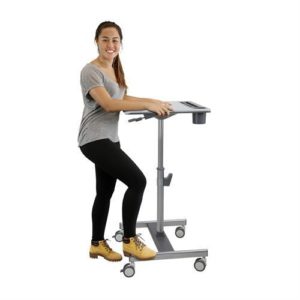 The height-adjustable standing desk infuses movement into the school day, offering the core sit-stand features and functionality that help support positive academic performance, collaboration and student well-being.
The lightweight design makes it easy to move into different classroom configurations to match lesson plans, and the open base offers space for fidgeting feet and comfortable placement. And it is quality tested against industry standards to withstand the daily activities that support personalized, active learning.
"Active learning environments are becoming more popular among administrators, teachers, parents and students, but we understand this premium furniture can be an intimidating investment for budget-minded school districts," said Betsey Banker, education market manager at Ergotron.
"At Ergotron, we want to do whatever we can to ensure all students have the opportunity to experience the mental and physical benefits of low-level physical activity in the classroom, so we created a desk that provides the same benefits but at a lower price point than our flagship LearnFit desk. We believe this product will open the doors for more schools to create active learning spaces."
The adjustable desk specs include:
Easy integration with current classroom chairs or stools for cost savings when switching to sit-stand
16 inches (40.6 cm) of lift adjustment that allow students to personalize the height to their comfort level
Tablet slot that accommodates devices with or without a case
The ability to easily roll into individual or group configurations for dynamic lesson planning
Student-friendly features such as a backpack hook, cup holder, tablet slot and pencil tray all integrated into the worksurface for a no-mess experience
PrecisionHeight™ Technology that enables students to easily adjust the desk height for proper ergonomic head positioning, helping reduce neck strain from looking down at digital devices
Option to add LearnFit SE Storage Bin, a flexible storage option that frees up shared workspace and reduces clutter
A 10-year warranty