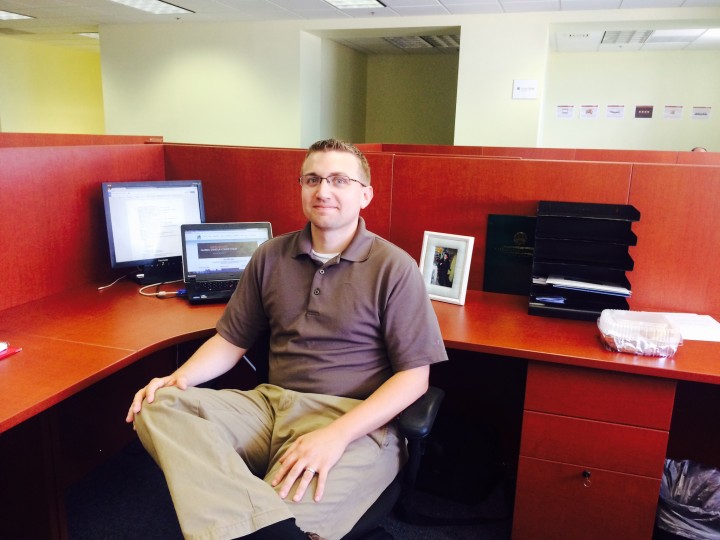 Many people are pulled into the startup community because of the freedom to let loose their entrepreneurial side—one that's often restricted in the corporate world. And for some, it's their first experience in being their own boss. But for Ben Burke, the Director of Entrepreneurship at Arch Grants, he feels right at home. He's been a champion of autonomy since he was 16. Growing up in Illinois, Ben ran a small business almost every season– mowing lawns in the summer, raking leaves in the fall, and shoveling snow in the winter. He credits these first self-employed jobs as the foundation for his passion for entrepreneurship.
Ben continued this all through college. While studying integrated marketing communications for his undergraduate degree at Illinois State, Ben become involved in Young Entrepreneurs Across America, a program that teaches business and entrepreneurial skills through a summer management program for Student Painters. Ben eventually became a vice-president of YEAA.
Only once in his career did Ben stray away from entrepreneurship, and this experience was short lived. While pursuing his MBA at ISU, Ben landed a sales job at State Farm.
"That environment really wasn't fulfilling for me," he admits, explaining that he turned back to Young Entrepreneurs Across America, and received the offer to start a new branch of the program. In 2010, he got married, went on a honeymoon, moved to St. Louis and started his new job—all in one month. "It was a crazy month," he said, grinning.
As Vice President of YEAA, he spread the program to five states. He concurrently obtained his MBA at Washington University, and spread his entrepreneurial spirit to the campus.  "I've been involved in pretty much everything Wash U. has to offer that's entrepreneur-related," said Ben.
After spending time in Budapest for a venture consulting trip, Ben finally arrived at his current destination, Arch Grants. He found out about AG through Wash U's Olin Business School, applied for the position, and has been with AG since October.
Although Ben is now working for a non-profit company, he feels that he is able to use his entrepreneurial strengths even more so than he did in his previous jobs. Whereas he oversaw a more homogenous group at YEAA, "startups are all at different stages and facing different challenges, so it's just a more complex iteration. I'm also not directly managing them as I was at YEAA."
Ben's Role at Arch Grants
As Director of Operations for AG, Ben has various complex roles because of "the complexity of the constituencies," and he likes that. That means he is able to work on philanthropy, economic development, and entrepreneurship simultaneously. "There's players in all the different 'verticals' and that manifests itself into a very complex communications strategy." He seems undaunted by that.
Most importantly, he oversees the core running of Arch Grants' main purpose—their global startup competition—culminating with awarding the most promising entrepreneurs $50,000 grants to get their startup going. "That's the funnel through which we draw in the entrepreneurs or retain these entrepreneurs," who Ben will then stay connected to and support as they begin their lives as business owners. His day-to-day role involves management of the competition, which includes outreach, organization and managing of the judges, and event-based activities.
The finalists for the AG competition are selected in June, so when the competition is over, Ben's tasks include preparing the space at the T-Rex Building for the new startups and the services that will be offered. "It's important to know that once you're an Arch Grants company, you're always an Arch Grants company. Once you're done with your 1 year incubation, we are here to support these entrepreneurs forever."
STL Startup Scene
When Ben came to St. Louis in 2010, the tech scene was just emerging. He had no idea how rapid the growth would be, and he's excited about the future of St. Louis as a tech hub. "A lot of attention is being paid to it, and we hope that that manifests into more activity. It's also really exciting to see successes with our companies." His enthusiasm not only for his job, but for the grantees, is infectious.
Ben will always be an entrepreneur, but it seems like he is at Arch Grants to stay because it satisfies his entrepreneurial spirit. "When you talk about people achieving, the urge to be 'entrepreneurial,' many times you're talking about the urge to be independent and autonomous. My desire to be autonomous and to be in the environment of creativity is more than being fulfilled at AG, so I'm very happy on a personal level with this position."
Ben was recently named to the St. Louis Business Journal's 30 under 30. Expect to start hearing his name a lot more.