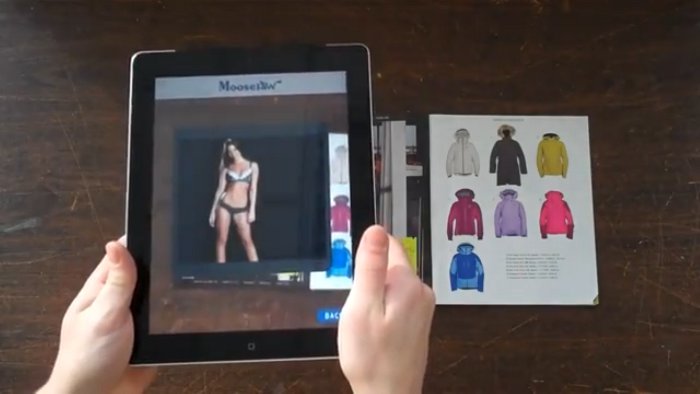 Developing an app that interacts visually with the real world — by inserting informational overlays, for example, onto the image captured by a tablet's camera — from the ground up is an imposing endeavor. A Detroit-based development outfit wants to ease that process (and proliferate the technology) by isolating the basic building blocks of augmented reality and turning them into tools for advertising.
Detroit-based Marxent Labs is a magician's workshop of visual trickery, where a team of developers will create a custom app, usually for a brand, that bridges the gap between software and the real world.
The mass adoption of augmented reality technologies, said digital marketing director Sonia Meisenheimer in an email message, "isn't as much about the technology itself as it is about solving a specific problem for a specific vertical — and then [it's] about content, integration, workflow, and the other real challenges of doing business at the enterprise level."
Many of the development models Marxent highlights have to do with hidden information: coupons that are only visible to shoppers scanning a circular with a custom app, or a tradeshow exhibition that displays extra information when shown "through" a tablet.
In the early days of the endeavor, it wasn't yet clear the project would be able to build up enough momentum. But a broadly positive response to a campaign with clothier Moosejaw, which let users "see through" the clothing that models were wearing in a physical catalog, proved to be watershed moment for the team.
"The enormous response to our Moosejaw X-ray app really drove it home," Meisenheimer said. "When retailers and consumers are hungry for the same thing in the same moment, then you know you've found a unique opportunity."
Though augmented reality does seem to be in a period of unprecedented development, with heavyhitter Google generating buzz around a wearable headset termed Project Glass, but Meisenheimer is more concerned with pushing the field forward than competition at this point.
"We collectively have a long way to go to build a market before market share becomes an issue," she said.
Marxent keeps offices in Tampa and Dayton in addition to Detroit, all areas that Meisenheimer said house a surprisingly deep talent pool — as well as traditional brands and retailers, which rely on print advertising but don't have the in-house capabilities to build augmented reality campaigns.