In 2013, Cisco projected there would be more mobile devices on Earth than people by the end of the year. More than half of Americans own a smartphone, and — wait for it — three-fourths of them take their smartphones to the bathroom.
This shouldn't really come as a surprise; we take our devices everywhere and entrust them with our personal calendars, birthday reminders, to-do lists, and Christmas shopping. Shoppers don't just use their phones to find a store — they use them in the store to compare offers and prices, check nutritional information, and read product reviews. Nearly half of these shoppers think they're better informed than store clerks, and they're probably right.
And yet, there are still some things we prefer to do on a laptop or tablet, and we collect our aluminum-bodied family of devices like fine pieces of artwork. As we make the move toward a fully mobile society, the question becomes not whether mobile technology matches what users can do on their desktop computers, but whether it can exceed it.
What's Needed to Transition to Mobile
Recall some history. Word processing on PCs did not replace typewriters simply because it made typing easier. This technology went far beyond the utility of typing: clean editing, beautiful documents, and other functionality that, until then, was only available to professional editors. People bought PCs because they offered these extras.
This same mindset is needed if we are to transition to a fully mobile age. People won't use a mobile app if it merely duplicates the desktop experience. They want an app that offers something new.
Here's the other clue to wider mobile adoption. We learned as e-commerce evolved that customers wanted to shop every way they could: buy in a store, buy online and return to a store, buy online and pick up at the store, and on and on.
It's the same with mobile. People want the ease of one device that does it all and for all their apps and files to sync in the cloud, but they enjoy different experiences with various devices. Tech companies have responded by producing desktop computers, laptops, tablets, smartphones, and devices in between. Any company that produces a mobile app has to be part of this flexible tech ecosystem, but it also must add something better.
Wildly Successful Apps That 'Get' Mobile 
The most successful apps today are those that provide an enhanced experience for mobile, and this will ring true in the next phase of mobile adoption as well. These are the apps that go beyond personal computing and offer the functionality users need while using mobile capabilities to their advantage.
Dolphin: It has a gesture interface that lets users tie specific gestures to actions. For example, a user can draw a 'G' to open Google, or you can draw a heart to visit your wife's blog. It's much easier than typing a URL, and it keeps users returning to this browser.
Chase: Banks are rarely the most innovative companies, and customers, especially in the United States, tend to prefer dealing with money in traditional ways. Chase took the plunge with its mobile app, which allows users to save a trip to the bank by scanning a check with their smartphone. It's hardly a huge disruption in the money transfer business, but its 15 million mobile users seem to think it's a clever way to do their banking. 
Evernote: Evernote has made note-taking fast, convenient, and fun by reducing the number of steps involved. Combine this with Evernote's famous search and cloud syncing technology, and it's a killer app that beats pen and paper — even a keyboard — by a mile.
Why These Apps Are Winners
These apps succeed for three reasons:
1. They recognize the distinctions of mobile devices. Without a mouse or a keyboard, mobile is more restrictive in some ways. But smartphones are also powerful: A touchscreen, a GPS locator, and a camera allow mobile devices to do things desktops can't, such as take a picture of a check or tag a note with the user's geographic location.
2.  They have rethought the user interaction with a mobile-first approach. It's annoying to type out a URL in a tiny mobile browser window, so these apps bypass the steps we used to consider necessary.
3.  They took advantage of the benefits their mobile platform provides. Evernote recently did a redesign for iOS7, making its look and UI consistent with the rest of the phone. Dolphin exploited the openness of Android to let users share their browsing with a ton of other apps with a simple gesture.
The Next Phase in Mobile
Many of us are still trying to connect our computers to a wireless printer, but imagine everything being part of your network. As they expand, wearable devices will be linked to other devices. Yes, as had been predicted, a refrigerator can communicate with Google Glass, but wearable technology will need to offer some functionality we don't have now to progress to mass adoption.
True advances in mobile happen when we develop technology around users' needs to provide a useful, new experience that continually surprises and delights. Evernote on a phone helps users make a quick note on the go. Perhaps Evernote on a smartwatch will display notes when and where users need them.
Users will show the way — even if it's to the bathroom — and mobile developers will have to respond with experiences that continually push the boundaries of technology's role in our lives. Consumers will use their dollars to ask for what they need and guide the trajectory of development in this next mobile era.
About the Author: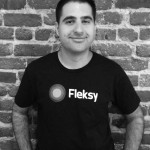 Ioannis Verdelis is the co-founder and COO of Fleksy, a revolutionary keyboard that makes typing on a touchscreen so easy you can type without even looking. Connect with him on Twitter.