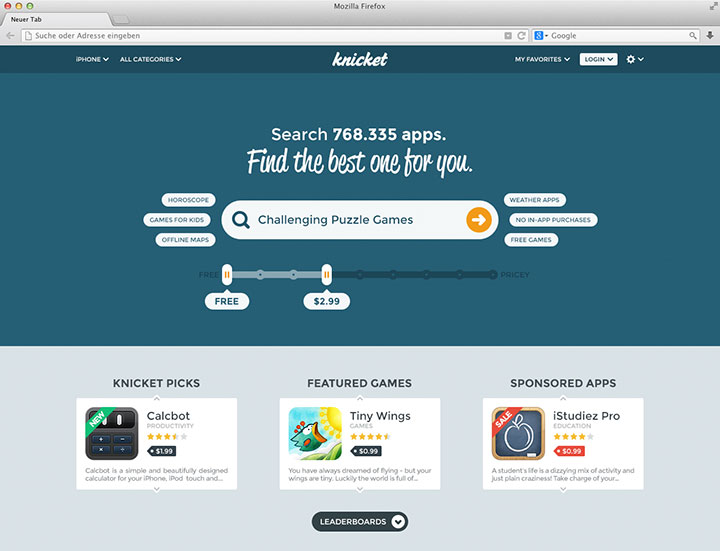 Finally – There's a useful answer to the question, "Is there an app for that?"  Berlin-based Knicket launched a brand new, third party search engine specifically for apps yesterday.
If you're a developer, you likely understand how hard it can be to search the native app stores, which is exactly why German app developer Uwe Flade decided to build Knicket.  "I've been developing apps for kids," said Flade.  "When I was looking at competitors trying to find all that was in the market, I was stuck.  I wasn't totally sure that I saw everything."
With over a million apps available for Android and iOS, it can be pretty daunting to see what's out there.  With Knicket, Flade and his team have crafted a fast search engine using the latest in asynchronous database technology, offering instant, intra-filter results, intuitive tags, and even a real-time price slider.
But even if you're not a developer, Knicket is still useful because of all the ways you can narrow down your search.  You can also discover similar apps, set a specific price or price range, and even search by an age range.  The Knicket team also helps you discover new apps with Apps of the Week, More Cool Stuff, and Get Inspired sections to keep you up to date on all the latest and greatest.
However, there is one drawback to the site.  It's only available on desktop at the moment with mobile coming in January 2014.   "[We're] still working on the mobile page," said Flade.  "Started on desktop because I thought it was better to have everything on the big screen and understand it there first."
That aside, it's still pretty useful as is.  Flade initially had the idea in 2010, but because of his other app development efforts didn't have the time.  After selling to another company, he set up Knicket in February.  "I'm hoping people have the same need that I have," said Flade.  "Once in a while you want to find a really specific app and you get annoyed by the stores because they obscure results and you don't know why."
With Knicket you can get the results that you want, and over time, Knicket will become even more useful as the team continues to refine its algorithm and provide an even better experience for users.
When asked about his expectations, Flade was gracious.  "I was hoping once in awhile they'll remember the site exists and go there to find what they like," said Flade.  "Have fun browsing through; look at the lists.  Most important thing is to present to people an independent search engine."
Check out Knicket, and let me know what you think in the comments.  Is it a useful tool?