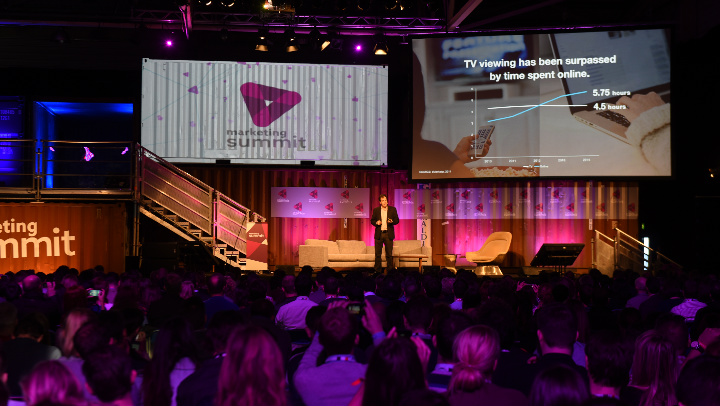 22,000 people from all over the world are flocking to Dublin this week to attend the fourth annual Web Summit. Like South by Southwest, the Web Summit is a huge multi-day conference for techies, journalists, investors, and startups… lots of startups. Speakers include CEO of Dropbox Drew Houston, angel investor Paul Hewson (aka Bono), Payal's Peter Thiel, Apple's former CEO John Scully, and 600 other incredible people in the startup world. They all mix and mingle across 40 acres of conference space and, at night, across the city of Dublin.
I'll be updating this page as the conference develops to introduce you to some of the incredible startups and speakers here. 
Nov 5th
8am: it's early morning here at the last day of The Web Summit and very stand from Audi to Google to Dropbox is handing out free cappuccinos to hung over tech founders hustling through one last day.
8:52am: met the Natural Machines, the 3D printer for food. They can print out an entire pizza complete with crust, sauce, and cheese. You do then have to put it in the oven but they assured me that the next printer will cook the food for you too.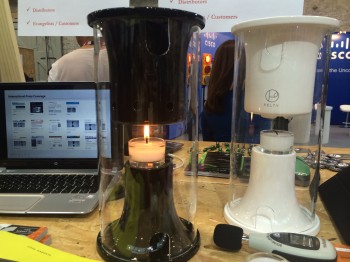 9:30am: Want to play music without charging a battery or finding an outlet? Pelty has built a bluetooth speaker that runs off of the energy produced by a burning candle. Apparently, a small burning tea light produces about 40 to 50 watts of thermal energy. Pelty can only capture about 5% of that energy – about 2 to 2.5 watts – but that's just enough to power a speaker. If Pelty can find more applications of the tech and can capture more energy, their work might could change the game for people in third world countries who do not have consistent access to electricity.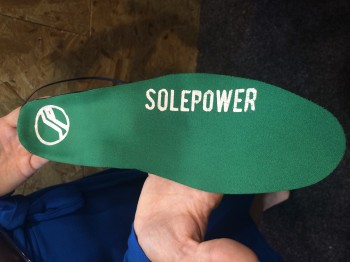 10:10am: SolePower from Pittsburgh has figured out how harvest the energy created when we walk. They place a micro generator  in the sole of a shoe and it spins using the lateral energy that's created when you step downwards. One hour of walking will charge your phone for two and a half hours of talking on your phone.
10:25am: Hadi Partvoti founder of non-profit Code.org is making some great arguments on stage: "when I was in high school, everybody learned how to dissect a frog not because we are all going to be biologists but because it was important to know how the world works and we need to do the same with computer science."
10:27am: Apparently, according to Hadi, every student in Iran graduates high school with a little bit of computer science class while 95% of American high school students don't touch computer science.
10:35am: And Hadi points out: "the tech industry only hires one third of the software engineers." The rest of the many jobs that go to coders are in other industries.
11:03am: Amanda Kahlow, CEO of 6sense says: "the world of analytics is dead" because analysis implies looking backwards and companies often don't use what they see to move forward. Amanda says we need to use software to predict action using data.
11:13am: "Domain expertise is critical so we're never going to be able to predict perfectly using data… we need to add human intelligence to data… human users need to determine what should be done," says Sharmila Mulligan, Founder and CEO of ClearStory Data.
11:25am: "the difference between Amazon and Walmart is not that one is online and the other isn't, it's that Amazon knows everything about you and this is why Amazon is ultimately going to win," says Tien Tzuo CEO of Zuora in his talk titled The Subscription Economy: A 100 Year Old Business Model is Crumbling, and What it Means for Business today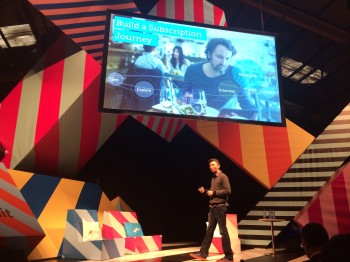 11:27am: Tien argues that businesses still think "I sell through these channels" but really they need to think "I sold to these customers" and look at each customer as an individual that they're going to build a relationship with: "they should care not about how many iPads have been sold but about how many Apple IDs have been created." Businesses need to build a "Subscription Journey" that takes a customer through a series of steps triggered by their actions so that the total cost to each customer is based on the value that the business gives that specific customer.
11:46am: Ryan Smith, founder of Qualtrics says the game of selling to enterprise has changed: "I've never sold directly to a C-suite executive." Qualtrics goes after mid-level players with small budget every time and once they've penetrated an enterprise they slowly grow into selling to the rest of the company.
11:53am: Michael Fertik CEO of reputation.com says: "Silicon Valley has no sense of humor about itself… that's one of the two things I don't like about living in Silicon Valley."
11:55am: Michael then turned to the topic of founder behavior in Silicon Valley: "I'm going to get in trouble for saying this but the only thing funnier than the American a**hole who mimics the Uber founder is the European a**hole who mimics the American a**hole mimicking the Uber founder… and they're not actually a**holes but they've pivoted into being a**holes because it works for the Uber guy."
12:22am: Lorraine Twohill, senior-VP of marketing at Google says: search is always a big deal for us so one thing we're focusing on right now is getting people to shift from using the desktop and move to using our mobile search app."
12:27am: "Android is interesting because everyone knows the brand but no body really knows what it is, no body understands what an OS is and why it's important," adds Lorraine: "Android as an OS has always been a part of this very personalized, customizable movement and we want to showcase that."
1:43pm: mentioned that I came from St. Louis to a journalist from Luxembourg over lunch and he said: "oh yes, you are fixing the Arch." Apparently, the recent restorations have been big news in Luxembourg. I know… I can't believe it either.
2:33pm: just got pitched by AceTasker, a company founded by two young Irish guys. They want to be the Ebay of tasks. So if you want your lawn mowed, you post a task with an offering price. Then a series of people big on the chance to do that task. You can take the lowest bid or choose from the bidders based on their rating.
2:55pm: Homage.it is an incredibly cool startup that's figured out how to extract the person in a video so that – without a green screen – you can put yourself into another video all on your mobile phone. For example, an American nine year old filmed himself punching and kicking the air and then put himself into a clip of the Street Fighter game. And, unlike all of the other apps I've seen that do this, Homage.it's videos actually look really good. There aren't fuzzy lines around the player or random breaks in the background.
Nov 4th
11/04 8am: IBM's Chef Watson (the artificial intelligence cook that uses a massive database of flavor profiles to modify recipes when you input ingredients) recommended I make "Moroccan Potato Salad with Figs and American Cheese." If you say so Watson…
11/04 8:34am : Introduced to Augmented Class, a platform that lets teachers build augmented reality apps that they can use in the classroom. For example, a chemistry teacher has designed an app that lets students point their phones at different pictures of chemicals and watch  them react with each other. Point the phone at a photo of a methane molecule and an oxygen molecule touching and you'll watch them combust.
11/04 10am: Tingle has built a new instrument. It's a box with steel pins that make beautiful music when you push into them or tilt the platform. They're hoping it'll start as a tool for DJs and turn into a toy that build self esteem in children.
11/04 11:38am: Saw Bono from afar… called out "get off my iPhone"… just kidding but I did see Bono from afar.
11/04 12:00pm: Danish startup Cyclister is building an AirBnb for bikes! They have 500 bikes for rent all over Copenhagen.
11/04 1:19pm: Basestone has built collaboration software for construction workers (think Basecamp but with hard hats). They just pitched and the judges are loving the industry because it's so not cool that it hasn't really been touched.
11/04 1:32pm: Don't often hear the words "financial services" and "social enterprise" in the same sentence but EdAid is doing it and they are doing great. They help students crowdsource tuition loans. Students borrow from the community and pay it back with no interest.
11/04 1:38pm: Every Cook is currently on the pitch stage. They've build a machine that does all of the cooking for you. You tell it what you want to eat and then it gives you a grocery list. After you buy the food, Every Cook tells you how much of each ingredient to put in the machine. Every Cook does the rest: chopping, mincing, sautéing… everything. You just sit back, relax, and wait for a pipping hot, fresh meal. Yum.
11/04 1:38pm: Live On Demand from the Netherlands is doing crowdsourcing for live events. Get 20% funded and they put their whole marketing team behind the event.  
11/04 3:31pm: ViewPop is a social network that only lets you post 3D photos and videos. They declared war on cat memes.  
11/04 3:50pm: Word on the street is Bono is going to the Salesforce party. I'm going. Stay tuned.  
11/04 4:10pm: The Summit is starting to wind down as everyone leaves to prepare for the night of networking ahead.  
11/04 4:11pm: But Zoobe is still going at it. There's a line around their booth. They're the world leader in animated avatars for social mobile messaging… aka they make really cool moving emojis.  
11/04 5:56pm: Just got pitched by USA startup Preo and can't wait for them to break into St. Louis. You'll never wait in line for a beer at BPV again. Preo lets you order a drink and pay for it using only your phone. Your drink will be ready when you get to the bar.