This month Chris Manzo, St. Louis architect and founder of Skipping Stone Technologies has launched a Kickstarter campaign for an infinitely handy iPhone case called Kit. The case makes sure that smartphone owners never leave the house without many of the important and often overlooked accessories that are regularly needed throughout the day.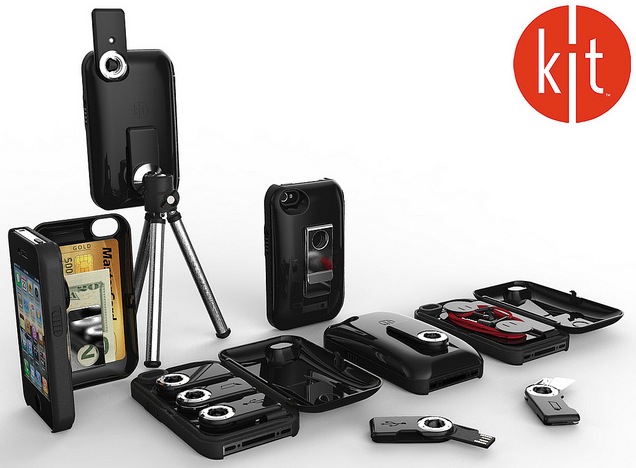 "My own frustration with smartphone accessories started about a year and a half ago when I was doing an architectural review with my students and we needed a beer bottle opener," Manzo explained. "It occurred to me then that we should be able to integrate some tools into our smart devices, because our smart devices and our new digital lifestyles still require a basic set of tools to get us through the day."
The case attaches to a smartphone and opens on the back, revealing a sort of mini locker of handy accessories. The first run will feature three of what Manzo refers to as "hard apps" in the form of an 8 GB flash drive, a multi tool that doubles as a knife and bottle opener, and an earphone holder. According to the Kickstarter page, the company has more than 35 additional hard apps in mind, including a backup battery, mini tripod, and attachable camera lenses.
Kickstarter backers can get a Kit case of their own for $69, and choose one of the currently available hard apps for an extra $20. The campaign is currently nearing $2,000 with 15 backers, and during the next month the company is hoping to bring in just over $44,000 to begin its first production run.
Manzo sees Kit as the complete package to replace wallets and the myriad accessories that have to be rounded up before leaving the house every day. "Kit transforms your smartphone into a 21st century Swiss Army Knife and your next generation wallet," said Manzo. "With Kit, you'll always be connected."
It certainly looks like an interesting concept, though there's always the risk that compacting all of your most important things together in a neat little package also makes them highly stealable. Just make sure you keep that iPhone buried deep in your front pocket.
Visit the Kit Kickstarter page to find out more about the various rewards available to supporters.