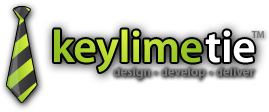 KeyLimeTie thrives on connections. A snowball effect spawned by close connections has developed into a highly successful Interactive Software Design & Development Firm in the Chicagoland area. Founded by brothers, Chris & Brian Pautsch, KeyLimeTie shares a family friendly bond with employees, clients, and fellow industry buffs to maintain a cohesive and stimulating environment in and around the workplace. And these business building relationships don't stop at that old-timey face to face interaction; KeyLimeTie develops interactive software applications that connect clients to their consumers and consumers to consumers so relationships can grow exponentially.
KeyLimeTie's solid office bonds have certainly contributed to their success. With a reputation for a happy, healthy work environment (for instance, named one of Chicago's 101 Best and Brightest Companies to Work For in 2010), the company has been privileged to recruit some of the most chiseled talent in the industry. With a team of innovation elite, KeyLimeTie has used advanced technology and creative thinking to strategize, mobilize, and socialize the brands of their clientele. Chris Pautsch revealed that mobile app development has been keeping them busy as of late. Whether devising a plan for a client's mobile strategy or pulling all nighters in an attempt to win big at hackathons, KeyLimeTie actively engages in their craft in the office and on the local tech scene.
As Pautsch affirms: mobile is huge and an integral part of savvy companies' digital strategy. KeyLimeTie acts as an idea translator for their clients. Often clients approach the company with nebulous ideas of what they might need and KeyLimeTie then translates these ideas into concrete solutions that drive sales and brand interaction. And clients have embraced the solutions. After three years in business, KeyLimeTie has retained almost every client since they launched. What does Pautsch chalk this up to? Relationships. KeyLimeTie prides itself on relationships with clients that trump conventional client relationships. There's a lot of trust involved. KeyLimeTie will never promise anything they can't deliver. They're a company clients rely on and truly enjoy working with.
By blurring the lines between family, employees, friends, and clients, KeyLimeTie has defeated a down economy and attracted some of the best talent the industry has to offer. The company continues to grow, adding an average of one new employee per month. A satellite office will be opening downtown Chicago to accommodate city based additions to the KeyLime family.
Do you have the tangy talent required to work for KeyLimeTie? Check out the open positions and apply at your leisure.
Had you heard of KeyLimeTie before today? Do you like what the Pautsch bros have done?