Building a successful startup can be extremely difficult. It usually takes a heroic effort from multiple founders to drive an organization to accomplish the mission. At least one founder can almost always be categorized as a resourceful hustler who overcomes obstacles no matter what it takes.
I love finding these types of entrepreneurs and learning their stories. They never disappoint. Recently, while at Internet Summit, in Raleigh, NC, I tweeted asking for the best media pitch in a single tweet. I said I would write about the most compelling company and was overwhelmed with Twitter responses.
One tweet stood out from the rest:
@APompliano started in our dorm room and less than 3 years later we have customers in over half the country. Jared at http://t.co/bHiltvLxSY

— First Dynamic (@FirstDynamic) November 12, 2013
I was intrigued. Any college entrepreneur building a company that lasts for more than three years has to be a hustler. And the story was better than I anticipated.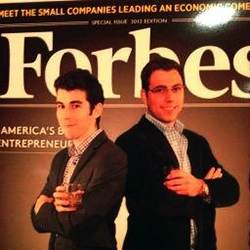 First Dynamic, a web-design and development firm, was founded as a summer project as a
Everyone has to start somewhere, but what happened next is every entrepreneur's dream. Rutgers's Entrepreneurial Society invited the newly formed team to represent the University on the Glen Beck show.
A large stage on national television can be extremely intimidating. It takes a true hustler to weather the storm and capitalize on the opportunity.
Jared and the team executed perfectly, and quickly the team began receiving leads from around the country. Just over , 170 have been served in 20+ industries, allowing First Dynamic to open their first office in NYC in October 2013.
There are tons of hustlers who have built successful companies, so what is so special about these guys?
Jared told me that they are looking to help other entrepreneurs hustle their way to success with an innovative approach – building minimum viable products. Most web developers and agencies want to work on the largest clients. Nobody wants to work with the cash-strapped entrepreneur who is trying to nickel and dime their way to success.
Jared's been there before and he knows how entrepreneurs feel. He is focused on helping through advice, experience and First Dynamic's work. The vision is to create a prototype or wireframe to empower founders to test assumptions and raise investment funds.
This unique approach could prove to be extremely valuable if executed correctly. Founders need help from experienced professionals that understand the challenges of creating a valuable product from scratch, attracting investors and ultimately building a sustainable business.
First Dynamic is jumping in to help fellow hustlers….will you?