As a result of the COVID-19 pandemic, seven out of 10 marketers moved their face-to-face events either partially or fully to virtual platforms. Tech giants like Microsoft, Alphabet, Adobe, Nvidia, Cisco, and many others are among those who refused to opt for a cancellation and instead turned to the event cyberspace. Many don't see this switch as a mere short-term bandaid, but perhaps as yet another step in our digitization journey – one that could bring many exciting opportunities.

Whether it's looking towards acquiring new business, exploring new products and services, and gaining insights into the latest industry trends, events bring great benefits. However, perhaps the single most attractive aspect of conferences is networking, and it goes without saying that forging new lucrative relationships might be slightly different in the online space than in real life. Diving into hosting virtual events in the virtual dimension requires preparation, to ensure that you leverage modern technologies to engage your audience in the most effective ways. Selecting the right strategies, tools, content, and activities goes a long way.

Techli spoke with two co-founders of Goldcast, a platform that enables businesses to conduct virtual events as well as accurately measure ROI and boost lead acquisition. Palash Soni, the CEO, and Kishore Kothandaraman, the COO, have shared some interesting insights into the ever-growing virtual events landscape and provided some useful tips on how entrepreneurs can navigate it in the most effective ways.
What are the best tools out there to support virtual networking? 
Kishore: I would say Goldcast, for sure. But there are also other tools such as Grip, Brella, and Icebreaker. Grip and Brella allow attendees to submit information about themselves before the event and then connect people that have similar interests. This enables a more thoughtful approach to networking. Icebreaker, on the other hand, provides interesting gamification options, allowing people to engage with each other in smaller groups during the event.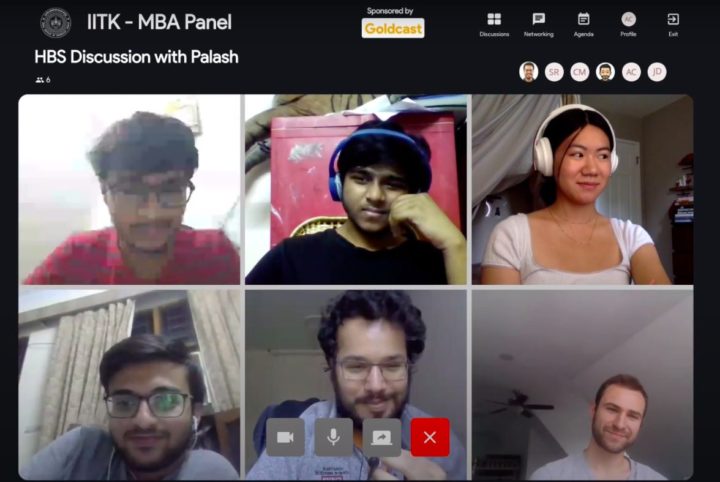 Do you have any ideas for virtual ice breakers? 
Palash: There are two things that come to my mind. First, it's important that the tools you are using give you an idea of who your attendees are. These can be basic profiles that include their field, work experience, and passions in a neat format, and if relevant, suggest that these people connect based on their mutual interests. This removes the awkwardness of meeting people you don't know but also helps overcome the initial networking barrier, especially at larger events that can have over a thousand attendees.

Second, it's always helpful to have some activity that takes place during the event, ideally between long sessions. For example, we regularly host wine tasting sessions during the event, where we send bottles of wine before the event starts. This helps to break the ice and allows people to open up a little more.
What steps can founders take to ensure a good conversation turns into a long-term connection?
Kishore: For event organizers, it's important not to think of the event as a static one-day gathering, but something that lives even after the participants disconnect. Organizers should capitalize on tools that help them build the community and keep it engaged going forward. Not only does this help the attendees to form deeper connections, but it also gives the organizers a great opportunity to enhance their brand image and build an audience for follow-up events.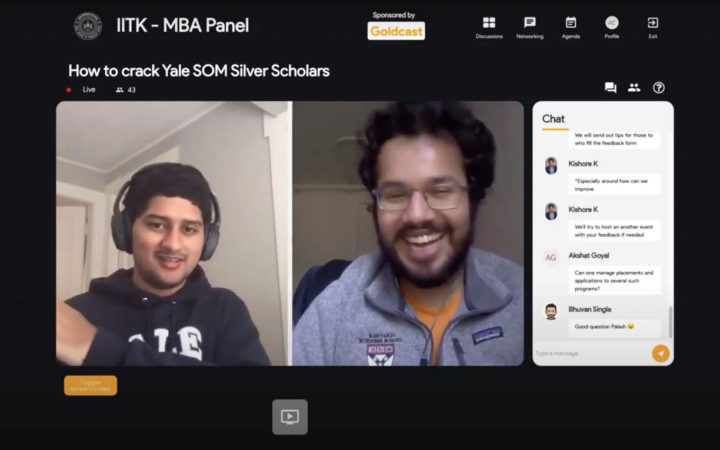 Are online booths worth the investment? 
Palash: This is a great question – and certainly one that everyone has in mind. The problem is that most platforms out there try to exactly replicate the physical offline booth experience. They put up videos and images of the sponsor, and sometimes expect the sponsor's representative to stay in front of a camera throughout the day. However, this means that both the quantity and the quality of leads take a hit. What is needed is to completely reimagine the digital event experience so that all stakeholders derive value. For example, Tinder didn't win the online dating market by creating a virtual restaurant experience – they cracked the problem with relentless focus and using first principles to solve the problem.
As you can see, successful virtual events start by embracing all the opportunities the digital space has to offer. While you might be missing the crowds and casual chit chat at coffee breaks, by leveraging online networking activities, you can still find ways to build meaningful connections that last way beyond the event itself.
This article includes a client of an Espacio portfolio company.