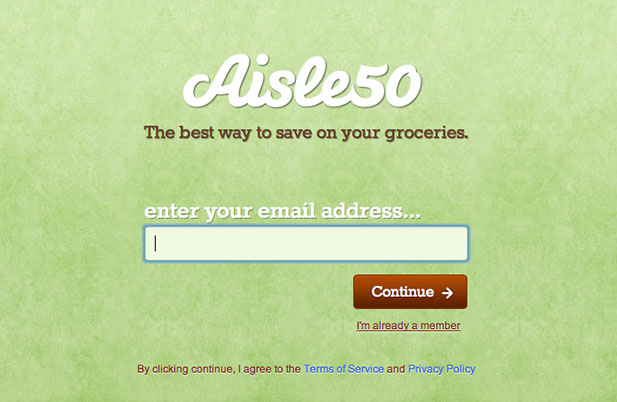 Aisle50, the Chicago-based "Groupon for groceries" and Y Combinator alum, announced today a $2.6M Series A financing led by Origin Ventures, with major participation from August Capital.
Co-founded by former Forbes magazine writer and noted author Chris Steiner, Aisle 50 sells digital offers from consumer packaged goods companies directly to consumers, who redeem them at bricks-and-mortar grocery retailers using a loyalty card or phone number.
"We're thrilled to work with Origin Ventures, which is from our hometown of Chicago and has significant experience in consumer-facing investments," said Steiner, who co-founded Aisle50 with Riley Scott in 2012.
Aisle50's unique discounts reward consumers for buying in advance, locking up a sale for a brand – and a store visit for the retailer.   In April, the company began offering consumers a product subscription program to automatically load discounts to loyalty cards at regular intervals.
"Physical retail stores are just beginning to leverage the web in ways that drive consumer engagement and, most importantly, extra store visits and sales increases," said Scott. "Aisle 50 is at the front of that trend."
Retailers that have adopted Aisle50's sales channel have seen increases in shopper visits, and average shopping cart values that are 31% higher when redeeming an Aisle50 offer in store. Redemption rates have consistently topped 90%, and more than 140 brands have distributed offers via Aisle50 and its retail partners.
Grocery chains using Aisle50 include NC-based Lowe's Foods; OK-based Homeland Stores; Shop 'n Save of Western PA; and D'Agostino in NY.  Additional retailers, including Raley's in Northern CA, will launch in the next six months.
"We are excited to lead this investment in Aisle50," said Brent Hill, a partner at Origin Ventures.  "The company has demonstrated that their unique solution provides value to consumers, retailers, and brands."